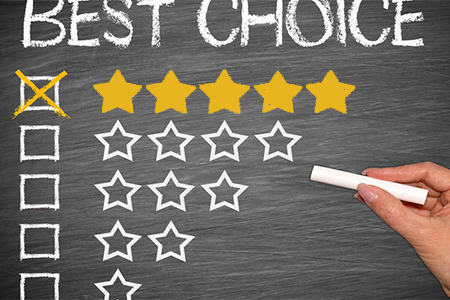 I already created a resource that describes a selection of the best running shoes for women who need neutral shoes to accommodate their orthotics, and you can find that resource here: Best Neutral Running Shoes for Women Who Wear Orthotics. However, some women contacted me asking what shoe brands manufacture neutral shoes as they want to access a larger selection of shoes. If you have read any of my previous articles, you might know by now that I have been fitting women's shoes for many years, and based on my shoe fitting experience I became familiar with the best neutral shoes for women who wear orthotics.
Why Are Neutral Shoes Ideal for Women Who Wear Orthotics?
As I mentioned in my previous article, neutral running shoes are designed for women who have a neutral or "correct" walking/running pattern. If your medical professional diagnosed you with orthotics, it's highly likely that he or she recommended a pair of neutral shoes, so the orthotics can perform their intended role. Orthotics are designed to interact in a certain way with your feet and they won't do well placed on a stability or "supportive" shoe trying to act upon the foot.
In addition, a neutral shoe tends to keep its shape better than a traditional stability shoe. So for women who are required to wear orthotics they can get the best comfort, shock absorption and support for their feet with a neutral shoe.
What Shoe Brands Manufacture Neutral Shoes for Women Who Wear Orthotics?
My go-to shoe brands that manufacture neutral shoes for women who wear orthotics are:
1️⃣ New Balance
2️⃣ Saucony
3️⃣ Brooks
4️⃣ Orthofeet
Please note that this doesn't mean that all shoes from those brands are going to be classified as neutral shoes. There are only certain styles that are neutral, so make sure that you filter the "support type" by "neutral cushioning".
Among the shoe brands that I recommended, New Balance is my go-to one as it's the shoe brand that manufactures the largest selection of neutral shoes that can accommodate different foot shapes. New Balance manufactures shoes in different widths such as wide and extra wide, which makes them ideal for accommodating orthotics. For example, you will notice that New Balance shoes provide extra volume to help increase comfort and prevent your heels from coming out of the shoes. Let me show you the difference in depth between one of the New Balance shoes that I recommend and a different style made by Asics: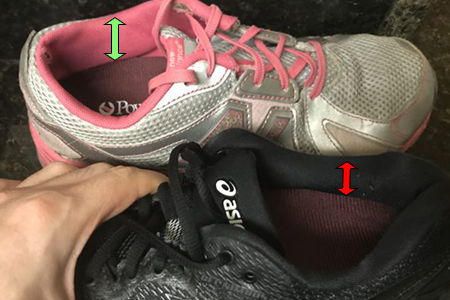 Do you notice how the orthotic is sitting a lot deeper in the New Balance shoe (grey and pink) compared to the Asics shoe (black)?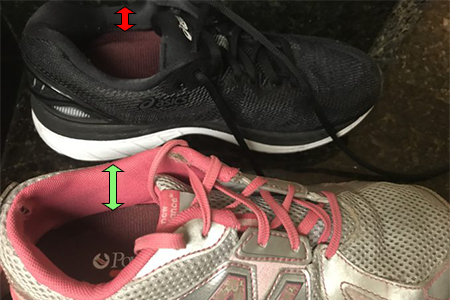 New Balance shoes also tend to have the roundest toe-boxes, which helps prevent the orthotics from poking a hole against the front part of the shoes: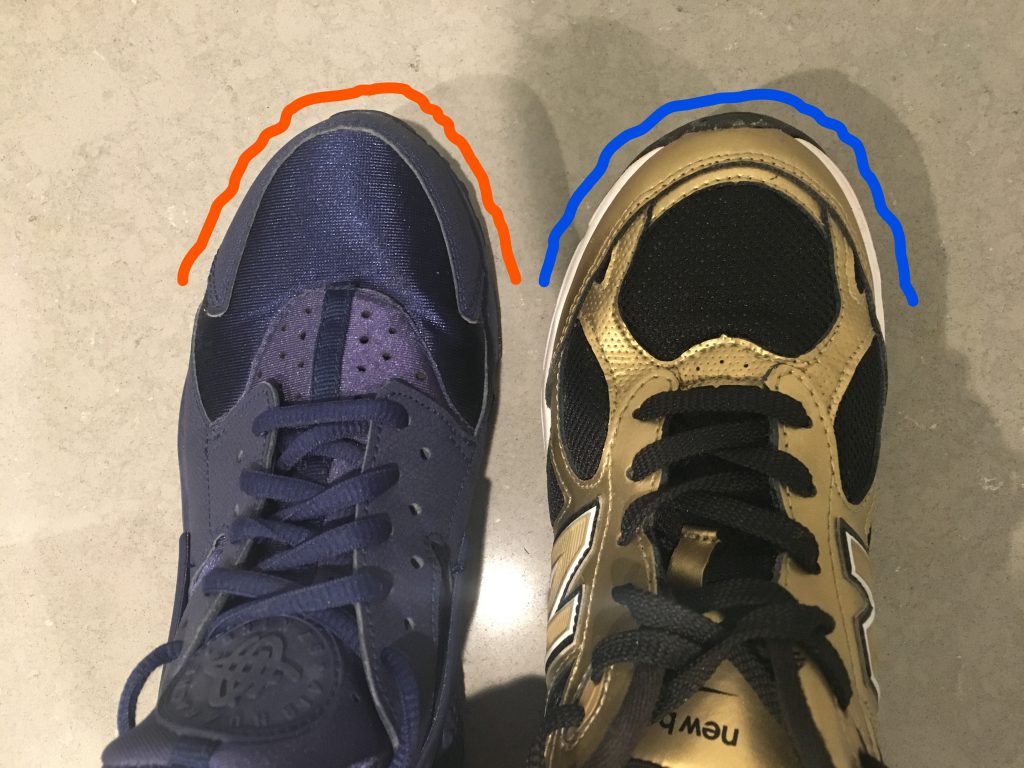 Your Foot Shape Determines What Neutral Shoes Will Work Best for Your Feet
Keep in mind that choosing a shoe that will work well for your orthotics takes more than simply choosing a neutral shoe and hoping that will fit your orthotics. The shoes must accommodate your foot shape correctly so you can get the full support and stability that the shoes and orthotics have to offer.
For example, do you know if your foot shape is narrow, medium, wide, or extra wide? Do you know if you have a high instep or not? These are all factors that determine what shoes will work best for your feet. Before ordering your shoes online, make sure that you retrieve your exact foot length and shape:
How to Measure Your Foot Shoe Size – The Most Simple and Effective Way!
Are You Still Unsure About What Neutral Shoe Might Work Best for Your Orthotics?
If you don't know what shoes might work best for your orthotics don't hesitate to ask your question in the comments section below or contact me via email:
comfortablewomenshoes@gmail.com
The Importance of Lacing Your Shoes Correctly – How to Tie Shoes with Orthotics
Once you find a neutral shoe that fits your foot shape and orthotics, you must make sure that the shoes are properly laced at all times to get the full benefits that the orthotics have to offer. I suggest that you apply this specific lacing technique:
How to Tie Shoes for Women Who Wear Orthotics — It Takes 3 Easy and Simple Steps!
What is your favorite shoe brand that manufactures good neutral shoes? Help me make this resource even better by sharing your experiences!