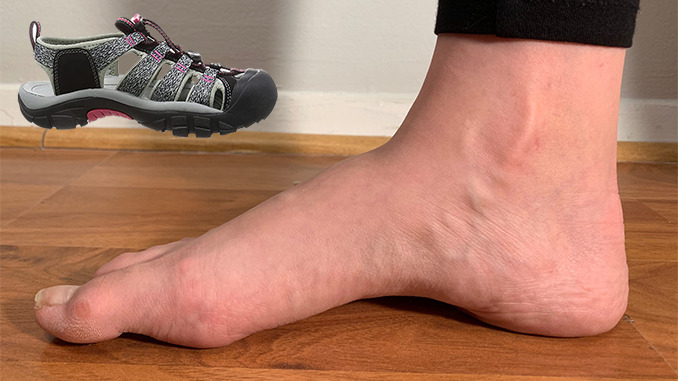 Are you experiencing foot pain due to your high arches? Have you already found a pair of sneakers that work well for your feet but now you are having a hard time finding a pair of summer shoes to accommodate your high arches? Women with high arches can strongly benefit from wearing sandals that provide targeted cushion and support.
First off, let's be clear about what a high arch is. It's an arch that is raised more than normal. The arch runs from the toes to the heel on the bottom of the foot. It is also commonly known as called pes cavus: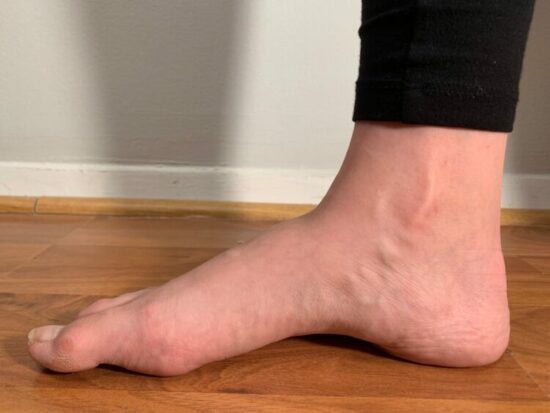 What Does It Mean If You Have High Arches?
If you have high arches, you probably know it. Women with high arches place extra pressure on the outer part of their feet, and one or both heels are usually tilted toward the middle of your body. This causes foot and ankle instability, which can cause pain and increase your risk of ankle sprains.
The Complications of Having High Arches
Women with high arches are more prone to developing calluses, ankle sprains, and stress fractures, as well as general foot pain.
I have been contacted by several women with high arches who explain to me how challenging it is to find a pair of shoes that fit. If you are looking for a pair of everyday walking shoes to accommodate the shape of your high arches I suggest that you take a look at the article below:
Best Walking Shoes for Women with High Arches — Extra Depth and Extra Cushion!
My Experience Helping Women with High Arches
I will help you out and you will benefit from my extensive knowledge and experience in fitting women 's shoes which are a result of working in a specialized shoe store for over 10 years. Over the years I became familiar with the best sandals for women with high arches.
In addition, I have been helping women find the correct type of shoes and orthotics to reduce or fully eliminate the foot and leg pain that they were having. While we specialize in women with foot and leg problems, we also provide regular shoe fittings.
If you have high arches, wearing deeper shoes will make a huge difference in the comfort and overall fit of the shoes. The deeper the shoes are, the deeper your feet will sit inside the shoes and the more comfortable that you will feel.
What Makes the Sandals I Recommend Effective for Women with High Arches?
☑️ Substantial Outsoles: This feature reduces the impact that your feet take every time they come in contact with the ground and relieve the stress on your feet and legs. Do you notice how the sandal below has a thick/supportive outsole?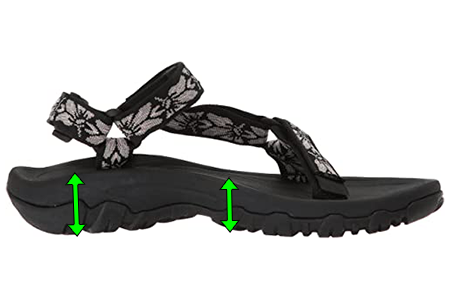 ☑️ Ankle/Heel Support: This feature helps cushion, protect and support your ankles. Notice how the sandal below provides targeted support right below the heels: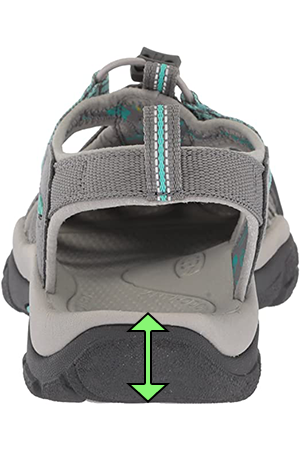 The best thing you can do for high arches is to properly support them with the correct type of footwear or orthotics. Supportive shoes will relieve excessive pressure on the ball and heel of your foot by evenly distributing your body weight.
The sandals that I recommend below provide multiple layers of cushioning that enhance comfort and ease pain on the foot and heels. Disclosure: Keep in mind that we may receive commissions when you click our links and make purchases.
Best Sandals for Women with High Arches ⭐⭐⭐⭐⭐
Take a look at the description below each sandal to check whether that specific style can fit the shape of your feet (narrow, medium, wide, extra wide).
Fits Narrow, Medium, and Wide FeetCheck Price
Fits Medium, Wide, and Extra WideCheck Price
Fits Medium, WideCheck Price
Fits Medium, WideCheck Price
Fits Medium, Wide, and Extra WideCheck Price
Fits Medium, Wide, and Extra WideCheck Price
To prevent your toes from rubbing against the front or side part of the sandals, I highly recommend that you order these shoes half a size larger than the size that your feet measure. This translates to 0.3 inches or 0.6 centimeters of space between your longest toe and the end of the sandals.
Make sure that you pull the straps of the sandals comfortably tight as the more effective the sandals "hug" your feet, the more support and stability that you will get from the sandals.
Are There Any Other Sandal Options Available?
These sandals provide excellent quality, support and fit, but if you are looking for a different type of supportive sandal you can reach out to me and I will provide you with different sandal recommendations: comfortablewomenshoes@gmail.com
Do You Know Your Exact Foot Length and Shape?
Your foot shape and size can change over time, and some of the factors that contribute to this change are pregnancy, aging and weight gain or loss. Over time and because of gravity, our feet might get longer and wider.
As we age, the body's ligaments and tendons lose their strength and ability to spring back. This means that our arches decrease, which flattens and lengthens the foot and toes.
This often results in an increase in shoe size by a half-size or more. You might also experience a change in foot width, meaning that even though you always ordered medium width shoes now you might have to start ordering wider shoes.
Don't insist on getting your shoes in a specific size simply because that has been the size that they always wore. I usually have to insist to them that they need to at least try the shoes in a different size to see how they feel.
How to Order the Correct Shoe Size Online?
Buying shoes online can be a challenge. If you are unsure of your current foot shape or foot length, I suggest that you take a look at a free resource I created where I help women determine their exact foot shape from home:
How to Measure Your Foot Shoe Size – The Most Simple and Effective Way!
Knowing your exact foot length and shape will also allow you to order the correct shoe size online, which will save you time and money.
Conditions Related to High Arches — Getting Informed!
For some women, high arches might be a trait they are born with, but for some women, it's something that develops and can be a signal of an underlying condition. It doesn't hurt to be informed and attentive to any of these conditions:
Spina Bifida
Cerebral Palsy
Muscular Dystrophy
Polio
Stroke
Spinal cord tumors
Let me know in the comment section below if you have any questions or if you have found a specific sandal style that has worked well for your high arches. I am sure other women with high arches will benefit from reading about your experiences!