Have you been looking for good running shoes that are capable of accommodating the shape of your wide feet? In addition to fitting the shape of your wide feet, your running shoes must provide several features such as good arch and ankle support, breathability, and flexibility.
I have been working for a specialized shoe store for 10 years now, where we help women with "complicated" foot shapes and foot conditions. Over the years I became familiar with the best running shoes for women with wide feet.
I know exactly which running shoes can fit women with wide feet from having fitted them before.
What Makes the Running Shoes I Recommend Effective for Wide Feet?
In addition to being available in wide widths (W), the running shoes I recommend provide 2 key features:
✅ Rounder Toe-Boxes: This feature is going to prevent your toes from overlapping or rubbing against one another or the side of the shoes. Let me show you the difference in toe-boxes between one of the running shoes I recommend and a different style: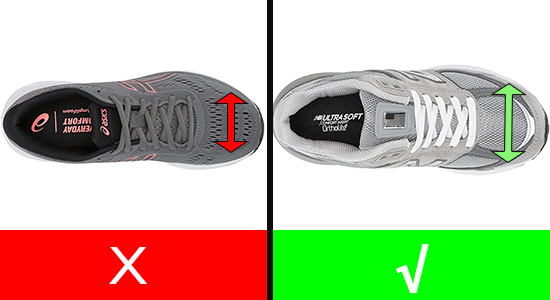 ✅ Extra Depth: This feature is going to help prevent the top part of your feet (instep) from rubbing against the top part of the shoes. Let me show you the difference in depth between one of the running shoes I recommend and a different style: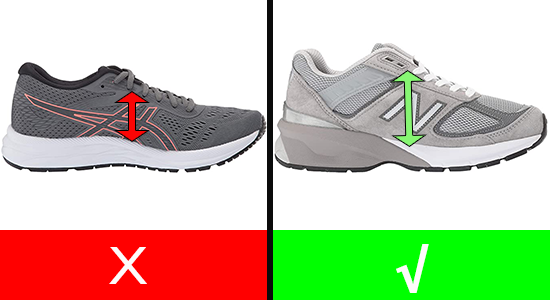 Before we move forward I want to make sure that you know your exact foot shape. You won't be able to order the correct shoe size online if you don't know your exact foot size and foot shape to begin with. For example, are you sure you have wide feet or do you believe you might have extra wide feet? Do you know if you have a high instep?
I created a different article that helps women determine their exact foot size and shape by following 2 simple steps:
How To Measure Your Foot Shoe Size – The Most Simple And Effective Way!
What Type of Features Do the Running Shoes I Recommend Provide?
The running shoes I recommend provide the following 5 important features:
✅ Ankle Support: Adequate support for the heel and ankle is extremely important if you want to keep your feet healthy while running. If you wear running shoes without the proper amount of support around the heel of the shoe it can lead to a badly sprained ankle and weeks of physical therapy.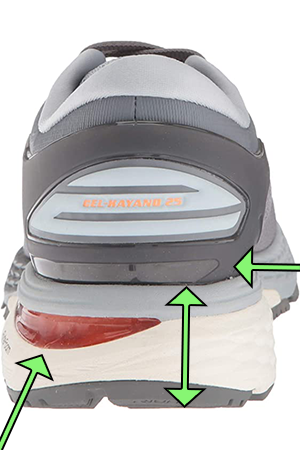 ✅ Arch support: Please keep in mind that the arch of our feet  is the most important structural feature of our feet, and we must take good care of them.  Choosing a shoe with good arch support will reduce or fully eliminate the shock our feet receive every time they impact the ground.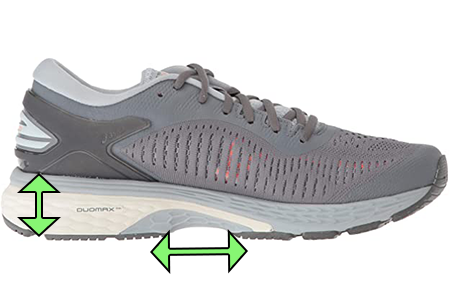 ✅ Flexibility: The shoes that we choose must be flexible and lightweight and lightweight at the same time for our feet and legs to not get tired easily.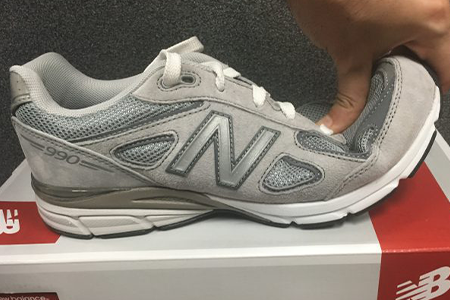 ✅ Breathability: Your running shoes must be breathable to prevent bacteria from building up inside the shoe.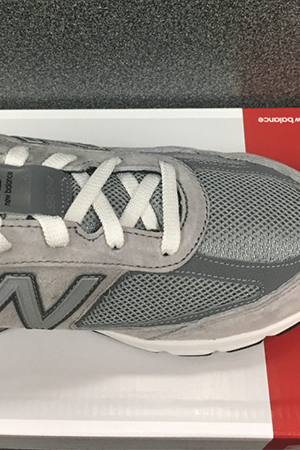 ✅ Traction: Your running shoes need to provide good traction to prevent you from slipping and falling.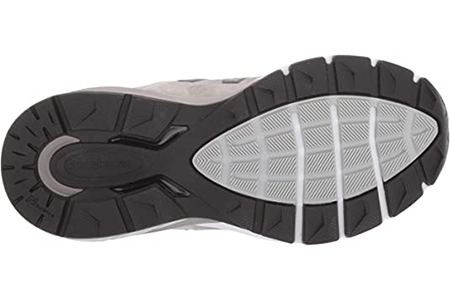 Best Running Shoe Brands for Women with Wide Feet
Have you heard of the shoe company New Balance? If you or any other member of your family has wide feet, this is a shoe brand that you might want to start getting familiar with.  These are the athletic shoes with the best and most versatile fit.
New Balance is the top running shoe choice for women with wide or extra wide feet.
What makes these shoes top of the line? It's not just the support they provide, but the fact that they come in all different width sizes (narrow, medium, wide and extra wide), making these shoes the first choice when it comes to a "complicated foot".
One of the greatest advantages of New Balance running shoes is that you will be able to fit any type of insert or orthotic inside the shoes. New Balance tends to make the deepest shoes, that is what makes them our go-to shoes for women who wear orthotics.
There are other awesome shoe brands such as Saucony, Brooks, and Asics that are also available in wide widths, but the reason why I recommend New Balance is that they make the deepest shoes with the roundest toe-boxes.
For example, if we put an Asics running shoe in a wide width next to a New Balance running shoe in the same width and the same length, you will notice how the New Balance shoe has a much rounder, wider toe-box. Let me help you visualize what I am talking about. Do you notice how the shoe on the right has a rounder toe-box compared to the shoe on the left?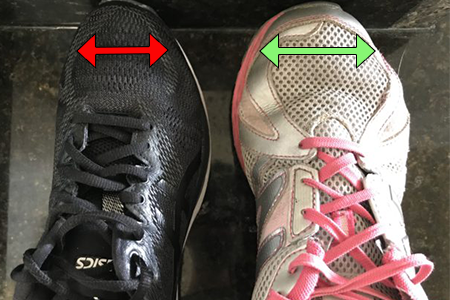 Keep in mind that these are all shoes I have fitted over the years, I have seen the quality of them and I am very familiar and content with the way they fit. With that said, there are other great brands out there that might be an excellent choice for you, and even though I haven't fitted them, after doing some research and talking to other shoe experts I will definitely advise you to look into them.
The Best Wide Running Shoes for Women ⭐⭐⭐⭐⭐
Below you can find a selection of the most popular, supportive, and comfortable running shoes for women that are available in wide (W) and extra wide (XW) widths. Make sure that you choose your correct shoe width. Disclosure: Keep in mind that we may receive commissions when you click our links and make purchases.
Fits Wide – Extra Wide

Fits Wide – Extra Wide

Fits Wide – Extra Wide

Fits Wide – Extra Wide

Fits Wide – Extra Wide

Fits Wide – Extra Wide

To prevent your toes from rubbing against the front or side part of the shoes, I highly recommend that you order these shoes half a size larger than the size that your feet measure. This translates to 0.3 inches or 0.6 centimeters of space between your longest toe and the end of the shoes.
If you are looking for a different type of shoe to fit the shape of your wide feet such as seasonal footwear or dress shoes don't hesitate to contact me and I will help you find them: comfortablewomenshoes@gmail.com 
Tying Your Running Shoes – Support And Stability!
It's important to tie your shoes properly if you want to get all the benefits that the shoes have to offer. For example, if you are wearing a good supportive shoe but the shoelaces are not tied properly, you won't get all the support the shoe has to offer and you will end up compromising your stability.
I learned a specific shoe tying technique from my coworker who has 30 plus years of shoe fitting experience and I call this shoe lacing technique the "reverse the shoelaces technique". This shoe lacing technique pushes your foot back, supporting and securing your heels against the back of the shoes. I also use this method every time a woman needs to wear an orthotic.
You can try this shoe tying method yourself, and you will notice an immediate difference as soon as you try them on! You just need to follow these easy steps:
1-Start with leaving the top two eyelets of the shoe open.
2-Go through the top hole first.
3-Go through the holes you left open.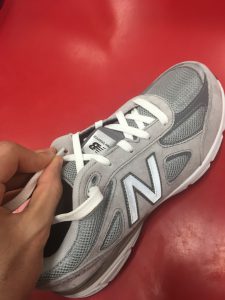 You are all done! Now you feel much more secure and stable when you are walking or running!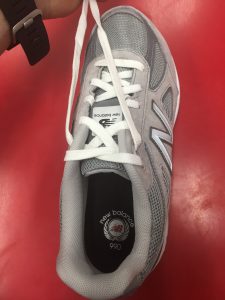 The Best Socks for Running Shoes – Seamless and Breathable!
I wanted to dedicate a paragraph about the importance of wearing the correct type of running socks since they are meant to protect the feet and act as a barrier against irritation and infection. Even if your feet are not prone to sweating excessively, moisture on the skin can create a myriad of problems, such as blisters, the growth of odor-causing bacteria, and fungus, such as Athlete's Foot.
Moisture on the skin is also a problem especially during cold weather, as moisture pulls heat away from the skin at a significantly higher rate than air.
You should also try to always look for seamless socks, especially if you have a wide foot. The advantage of seamless socks is that they allow for the toes to move freely, and prevents your toes from getting cramped against each other. If you have been looking for a good pair of socks for a while now, below you can find a selection of the most breathable, comfortable, and seamless socks for your running shoes:
Breathable Socks

Breathable Socks

Breathable Socks

I provided you with a selection of the best wide running shoes for women, and now you are ready to make the most informed decision.
Women need to be able to run and exercise comfortably without having to worry about their toes getting cramped inside the shoes. It can be discouraging to run in a pair of shoes that feels too narrow and uncomfortable.
Certainly contact me via e-mail or in the comments section with further questions that I will most likely be able to answer.  I will continue to post informative articles penned by me that address important topics such as this one.