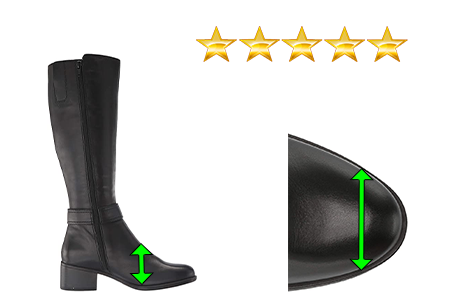 Editor's Note: This post has been completely revamped and updated for accuracy on May 2022 and reflects an up-to-date selection of the best tall black boots for women with wide feet.
Have you been looking for a pair of tall black boots that are somewhat fashionable and capable of accommodating your wide feet? Do you feel like you try several different boot brands and styles and you always end up empty handed? Finding a pair of tall black boots for women with wide feet can be a frustrating and time-consuming task.
I have been contacted by several women who are frustrated about not being able to find a single pair of fashionable black tall boots to accommodate the shape of their wide feet. I am confident that I will help you find the correct pair of boots to accommodate the shape of your wide feet, as I know which women's shoes fit wider than others.
I have been working for a specialized shoe store for the last 10 years, where I help women find the correct type of shoes for their "complicated" foot shapes. We specialize in helping women with foot and leg problems, but we provide regular shoe fittings as well.
Before I show you a list of the best tall black boots for women with wide feet, I need to make sure that you know your exact foot shape. For example, I need to know whether your feet are wide, or they are extra wide. There is a big difference in which shoes can accommodate a wide foot and which shoes can accommodate an extra wide foot. In addition, do you know whether you have a high instep or not?
When Was the Last Time You Checked Your Foot Size?
Your foot shape and size can change over time, and some of the factors that contribute to this change are pregnancy, aging and weight gain or loss. Over time and because of gravity, our feet will get longer and wider.
As we age the body's ligaments and tendons lose their strength and ability to spring back. This means that our arches decrease, which flattens and lengthens the foot and toes.
This often results in an increase in shoe size by a half-size or more. You might also experience a change in foot width, meaning that even though you always ordered medium width shoes now you might have to start ordering wider shoes.
Don't insist on getting your shoes in a specific size simply because that has been the size that they always wore. I usually have to insist to them that they need to at least try the shoes in a different size to see how they feel.
If you are unsure of your current foot shape or foot length, I suggest that you take a look at a different resource I created where I help women determine their exact foot shape from home:
How to Measure Your Foot Shoe Size – The Most Simple and Effective Way!
What Makes the Tall Boots I Recommend Effective for Wide Feet?
☑️ Extra Depth: This important feature allows the feet to fit deeply inside the boots and prevents the top part of your feet (instep), from rubbing against the top part of the boots. When women have wide or extra wide feet, there is a lot of extra foot volume that needs to be fitted inside the boots. Boots that provide extra depth are ideal for women with wide feet.
Let me help you visualize what I mean by boots that provide extra depth: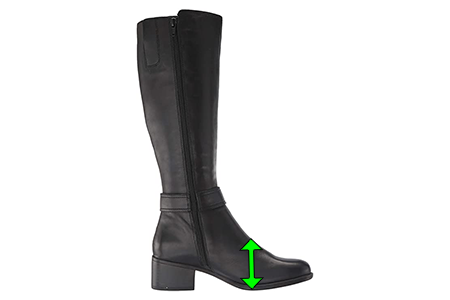 ☑️ Round Toe-Box: This feature is going to help prevent your toes from rubbing against one another or the side of the boots. If you are dealing with a foot condition such as a bunion, this feature will help prevent putting pressure on it.
Let me help you visualize what I mean by boots that provide rounder toe-boxes: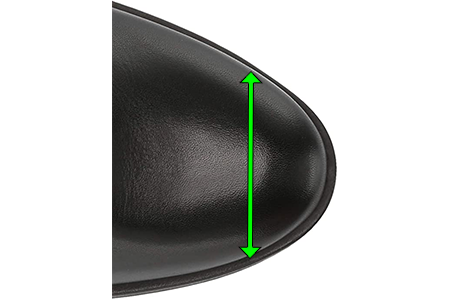 ☑️ Available in Wide Widths: Most of the boots I recommend are available in wide ("W", "EE") and extra wide widths ("XW", "EEEE"), so make sure that you order them in the correct shoe width.
Now that you know your foot shape and size and what features your boots should provide, we can now take a look at a list of the best tall black boots for women with wide feet.
The Best Tall Black Boots for Women with Wide Feet ⭐⭐⭐⭐⭐
Take a look below each image to check if the boot is available in wide and extra wide widths. Keep in mind that how effective these boots will be in accommodating your wide feet directly depends on your foot anatomy. Disclosure: Keep in mind that we may receive commissions when you click our links and make purchases.
Order this boot a half size larger than your foot size
---
Order this boot a half size larger than your foot size
Do not hesitate to contact me if you are having trouble finding a different type of shoe to accommodate your wide feet:
comfortablewomenshoes@gmail.com