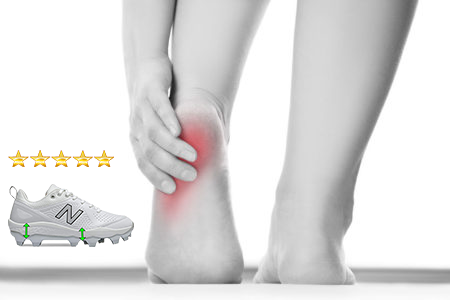 Editor's Note: This post has been completely revamped and updated for accuracy on May 2022 and reflects an up-to-date selection of the best softball cleats for women with foot pain.
Have you been experiencing foot or leg pain while playing softball? Has the pain intensified to the point where you can no longer perform at your best and enjoy the game? I have noticed that some women complain about a strain in the bottom of their feet while some others experience pain on the top part of their feet.
Softball is a game of speed and agility, which means that you will be constantly on your feet and need to be ready to perform inning after inning, so finding the right pair of softball cleats is key.
I have helped several women who were dealing with foot pain from playing softball find the correct type of cleats for their feet, and I believe I can help you too.
I have been working for a specialized shoe store for the last 10 years, where I help women find the correct type of shoes and orthotics to reduce or fully eliminate their foot and leg pain. We specialize in women with foot and leg problems, but we provide regular shoe fitting as well.
Before I show you a list of the best softball cleats for women with foot pain, I need to make sure that you know your exact foot shape and foot length.
It's really important that we retrieve your foot size as several women I have helped were experiencing foot pain due to wearing softball cleats that were too narrow.
When Was the Last Time You Checked Your Foot Size?
When was the last time you had your foot measured to check your shoe size? Your foot shape and size can change over time, and some of the factors that contribute to this change are pregnancy, aging and weight gain or loss. Over time and because of gravity, our feet will get longer and wider.
As we age the body's ligaments and tendons lose their strength and ability to spring back. This means that our arches decrease, which flattens and lengthens the foot and toes.
This often results in an increase in shoe size by a half-size or more. You might also experience a change in foot width, meaning that even though you always ordered medium width shoes now you might have to start ordering wider shoes.
Don't insist on getting your shoes in a specific size simply because that has been the size that they always wore. I usually have to insist to them that they need to at least try the shoes in a different size to see how they feel.
If you are unsure of your current foot shape or foot length, I suggest that you take a look at a different resource I created where I help women determine their exact foot shape from home:
How to Measure Your Foot Shoe Size – The Most Simple and Effective Way
What Makes the Softball Cleats I Recommend Effective for Women with Pain?
There are 3 key features that the softball cleats I recommend provide that makes them ideal for women who are dealing with foot pain:
☑️ Substantial Outsole: The cleats I recommend provide substantial and supportive outsoles to attenuate the impact that your feet take every time they come in contact with the ground. The cleats I recommend provide targeted support right below your feet (where your arch is) and below your heels as well.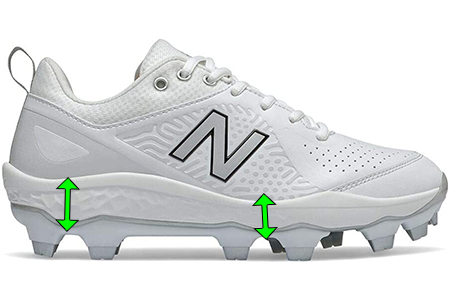 ☑️ Round Toe-Box: This feature helps prevent your toes from overlapping or rubbing against one another or the side of the shoes: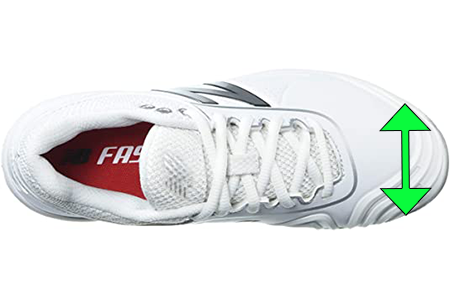 ☑️ Extra Depth: This feature is really important, especially if you are dealing with a high instep. The deeper the shoes are, the deepest your feet will fit inside the shoes. This will also help prevent the top part of your foot (instep) from rubbing against the top part of the cleats.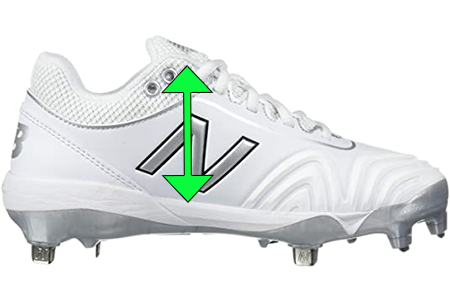 Are Your Softball Cleats Too Narrow for Your Feet?
If you wear a pair of softball cleats that are too narrow, you will end up cramping your toes inside the cleats which will lead to several foot issues such as blisters, calluses, and corns as well as general foot and leg pain. On the other hand, other women end up buying longer cleats to take the pressure away from the widest part of their feet. This can also lead to the foot issues mentioned above as well as making you more prone to falling since running in shoes that are too big can compromise your stability.
How to Check If Your Softball Cleats are too Narrow?
Once you have your softball cleats on, check if you notice a small bump poking out in the widest area of the shoes. Take a look at the picture below for clarification purposes: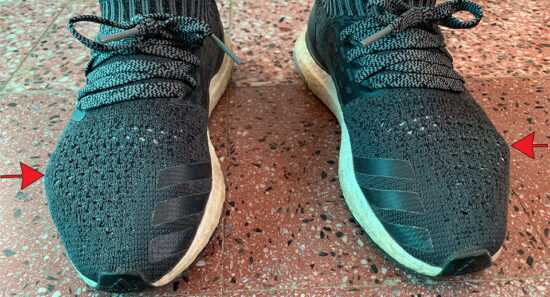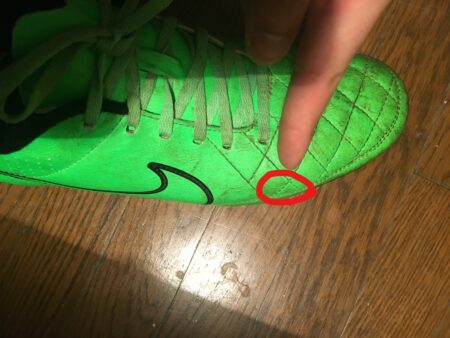 The softball cleats I recommend are available in wide widths ("W", "EE"), in case we need to accommodate the shape of a wider foot. Disclosure: Keep in mind that we may receive commissions when you click our links and make purchases.
The Best Softball Cleats for Women with Foot Pain ⭐⭐⭐⭐⭐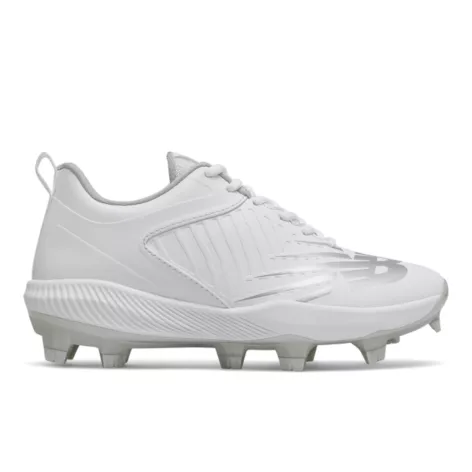 Available in medium and wide widths
Metal spike outsole provides superior traction on the field
Lace closure offers a secure fit
FuelCell foam delivers a propulsive feel to help drive you forward
Order this shoe a whole size larger than your foot size
---
Available in medium and wide widths
TPU molded cleat outsole provides superior traction on both turf and natural surfaces 
FuelCell foam delivers a propulsive feel to help drive you forward
Order this shoe a whole size larger than your foot size
What Shoe Size Should You Order?
To prevent your toes from rubbing against the front or side part of the shoes, I highly recommend that you order the shoes a whole size larger than the size that your feet measure. This translates to 3/8 of an inch or 0.8 centimeters of space between your longest toe and the end of the shoes.
Make sure that you try these cleats with the same socks that you will be wearing o the field. The cleats should fit snugly, so there's no sliding around inside the shoes that can cause blisters or other foot issues. However, if the shoes feel too tight or too narrow try them in a wider width instead of buying them in a. larger size.
All of these cleats come with extra padding around the heels and below the tongue to maximize comfort.
The Best Softball Socks for Women – Breathable and Comfortable!
Sport socks play a key role in keeping your feet healthy when playing softball, since they act as a barrier between your feet and the cleats. The right type of softball socks will help carry moisture off the skin so it can release through evaporation, keeping your feet dry and preventing excessive rubbing.
Certain softball socks provide extra cushion to targeted areas of your feet, and this helps prevent you from developing foot issues such as blisters, calluses, and corns.
Finding the right pair of softball socks will make all the difference in comfort and foot health for you. That is the reason why I have put together a selection of the best softball socks for women:
It can be challenging to find the perfect pair of softball cleats, and even more challenging when you are dealing with foot or leg pain.
Do not hesitate to contact me if you have any further questions or believe that you can benefit from wearing an orthotic/insole inside your cleats. I will guide you through the next steps: comfortablewomenshoes@gmail.com 
Before choosing any of the cleats I recommend, make sure they are allowed by the league you play for.
Have you found a specific softball cleat that has worked well in reducing or fully eliminating your foot pain? Please share your findings below so other women can benefit from your experiences.