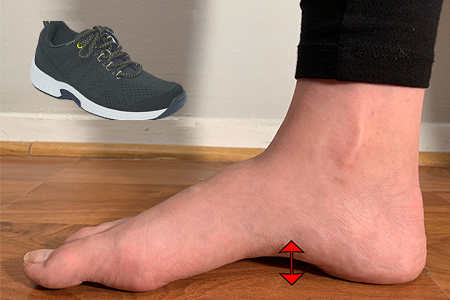 Do you have high arches and are having a hard time finding shoes that fit well? Are you looking in particular for walking shoes for yourself?
First off, let's be clear about what a high arch is. It's an arch that is raised more than normal. The arch runs from the toes to the heel on the bottom of the foot. It is also commonly known as called pes cavus.
The arch of your foot is that slightly curved area between your heel and the ball of your foot. Some people have unusually high arches, which can lead to numerous problems, ranging from pain irregularly to more permanent pain and further complications. Please see the picture of the woman's high arch for illustration.
Did you know that a high arch is the opposite of flat feet?
In addition, high arches in women are pretty common, and don't need to be a problem necessarily! If you are indeed sure that you have a high arch, then you must find either deeper or wider shoes In addition, it's also important to find shoes that provide a good amount of support, since women with high arches lack shock absorbing capabilities.
While high arches can be caused by a medical condition, some women may just have higher arches than others. Some women might have a lot more trouble fitting their feet inside the shoes, and sometimes the heels don't sit all the way inside the shoe properly.
If you are looking to get the best shoes to walk, then you just need a good pair of walking shoes that provide extra depth and good cushioning.
You should know that walking shoes must provide good arch and ankle support. Shoes with arch support will protect and cushion your feet every time they impact the ground, and the same applies to ankle support, since your heel is the one who touches the ground first when you're walking.
As I mentioned, if you have high arches, wearing deeper shoes will make a huge difference in the comfort and overall fit of the shoes.
I will help you out and you will benefit from my extensive knowledge and experience in fitting women 's shoes which are a result of working in a specialized shoe store for over 10 years. In addition, I have been helping women find the correct type of shoes and orthotics to reduce or fully eliminate the foot and leg pain that they were having. While we specialize in women with foot and leg problems, we also provide regular shoe fittings. Also, I will be able to show you which women's shoes are deeper than others.
In this post, I am going to show you a selection of the best walking shoes for women with high arches.
How to Determine If You Have High Arches – Know for Sure!
There is no measuring device, however since I have been fitting women's shoes for so long, I can take a look at your foot and tell you immediately if you have high arches.
In your case, you can check to see if you have high arches by standing on a large piece of paper with wet feet. Please allow the moisture from your feet to sink into the paper, then remove your feet from the paper.
If you do have a high arch, the imprint left on the paper will be of only the front and heel of your foot with nothing in between. If there's only a thin imprint between the two, then you possibly just have a moderately high arch.
In addition, if you try on your shoes and you feel that they are too tight when there is plenty of width room and length room, it might be that you have a high arch and you need a wider or deeper shoe.
Be mindful that if you indeed have a high arch and are not wearing shoes that are wide or deep enough for your feet, it is highly likely that you will experience discomfort and pain. Also, note that a woman that has narrow feet can still have high arches! In this case is important that you find deeper shoes instead of wider ones.
Please keep in mind that if you don't wear the correct type of shoes, then you can create all sorts of issues with your feet since the top of your feet will rub against the top of the shoes. This will make you more prone to developing blisters, calluses, and corns.
Conditions Related to High Arches — Getting Informed!
For some women, high arches might be a trait they are born with, but for some women, it's something that develops and can be a signal of an underlying condition. It doesn't hurt to be informed and attentive to any of these conditions:
Spina Bifida
Cerebral Palsy
Muscular Dystrophy
Polio
Stroke
Spinal cord tumors
Now, on a more positive note, let's find out how to figure out your foot size.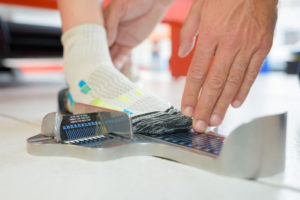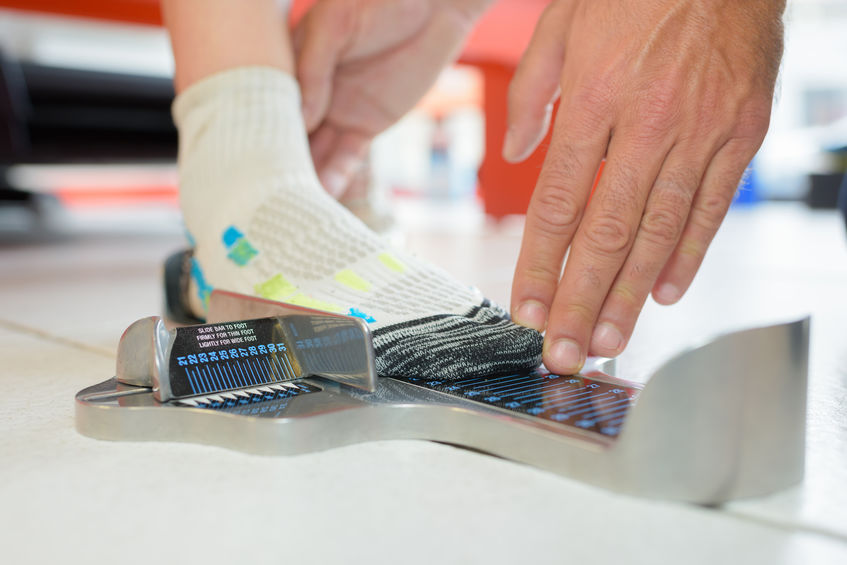 Finding Out Your Exact Foot Size — Easy & Simple!
When trying to find the correct shoe size, we are looking to figure out your actual foot width (remember that shoes come in different width such as narrow, medium, wide, and extra wide).
So, there are 3 things you need to consider:
The length of the foot
The width of the foot
Other foot issue or deformity (hint: high arches)
You can start by reading an article I wrote that describes the simplest, yet most effective way to figure out your foot size from home. Please click on the link below:
How To Measure Your Foot Size – The Most Simple And Effective Way!
Please be rest assured that I only review shoe styles that I have fitted before since that is the only way for me to tell how well-made the shoes are, the amount of support that they provide, and how they fit. Disclosure: Keep in mind that we may receive commissions when you click our links and make purchases.
The Best Walking Shoes for Women with High Arches ⭐⭐⭐⭐⭐
Below you can find a selection of the best walking shoes for women with high arches.
Medium – Wide – Extra Wide

Medium – Wide – Extra Wide

Medium – Wide – Extra Wide

Medium – Wide – Extra Wide

Medium – Wide – Extra Wide

Available in Narrow Widths (N)

Keep in consideration that shoes can run short, long, narrow, or wide, and depending on how they run you will need to adjust the size that you get for yourself.
I recommend that you wear half a size longer than the size that you measure in the shoe measuring scale to prevent your toes from rubbing against the side or the front of the shoes.
To prevent your toes from rubbing against the front or side part of the shoes, I highly recommend that you order these shoes half a size larger than the size that your feet measure. This translates to 0.3 inches or 0.6 centimeters of space between your longest toe and the end of the shoes.
Please take a look at these useful tips on walking, so you can really enjoy it and keep your feet happy and healthy!
In addition, if you happen to have a child with high arches, take a look at the article below which describes the best shoes for children with high arches. Remember that having a high arch can be a hereditary condition. Go to the link below:
Shoes for Children with High Arches – Extra Cushion and Extra Depth!
If after this informative article you are still having trouble finding a particular pair of shoes for high arches, please do not hesitate to contact me. From experience, I am confident to tell you that there is always at least one particular shoe style out there that will fit the shape of your feet perfectly, and I will help you find it.