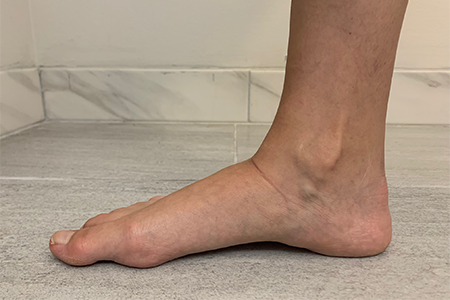 Editor's Note: This post has been completely revamped and updated for accuracy on May 2022 and reflects up-to-date information on how to figure out if you have flat feet.
Have you been experiencing foot and leg pain when walking and standing? Does the pain intensify when you are exercising or running? I have seen a large number of women who were never diagnosed with flat feet, but developed later in life. This condition is called adult acquired flatfoot, and it affects the feet and ankles. It can be a debilitating condition and may be helped with supportive shoes and orthotics.
While some women are born with flat arches, for others, their arches will gradually fall over time due to age or the pressures of heavy or high impact activities. For example, women over the age of 40 and pregnant women are  at a higher risk of developing adult acquired flatfeet. In addition, women with medical conditions such as hypertension, diabetes, rheumatoid arthritis and obesity are also at a higher risk.
I just want to point out that simply because you have never been diagnosed with flat feet it doesn't mean that you will never get it.
How Can You Diagnose Flat Feet?
Some women go to their doctor for a visual examination and get plain radiographs of their feet.
I have been working for a specialized shoe store for the last 10 years that focuses on women with "complicated" foot shapes and foot conditions such as flat feet. I evaluate women's feet daily, and I have helped hundreds of women who were experiencing foot pain due to flat feet find the correct pair of shoes and orthotics.
I can help you figure out if you have flat feet by simply looking at 2 images of your feet.
How to Figure Out if you Have Flat Feet — Follow These 2 Simple Steps!
The first step is to take two images of your feet. Below you can find samples of how the images should look like.
First Image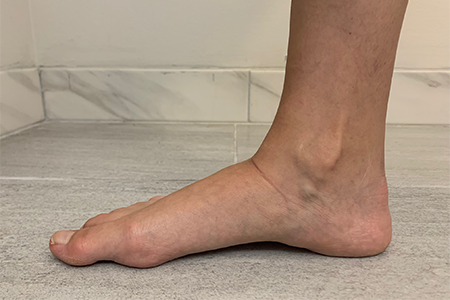 Second Image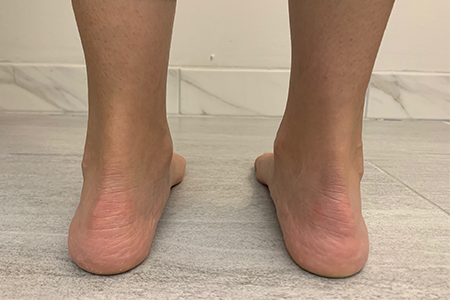 Where Should You Email Your Foot Images?
Once you have these two images you need to email them to me:
comfortablewomenshoes@gmail.com 
What Happens Next? — Check Your Inbox!
I always respond in less than 24 hours. Once we identify whether you have flat feet or not I will be able to recommend supportive shoes and/or orthotics, depending on the degree of your flat feet, and whether you are experiencing foot pain.
It's important to note that there are 2 different types of flat feet: flexible and rigid.
☑️ Flexible flat feet mean that the arch is visible when you are sitting or standing on tiptoes, but disappears when you stand.
☑️ Rigid flat feet mean that the arch is never present, whether bearing weight or not. The foot remains flat during sitting, tip-toe standing. This type of flat feet can be very painful.
My approach is that it doesn't matter what type of flat foot you have, if you are experiencing foot pain you must be proactive and find a pair of shoes and orthotics to either significantly reduce or fully eliminate the pain.
The structure of the arches determines how a person walks. The arches provide a spring to the step and help to distribute body weight across the feet and legs. When women have flat feet (either flexible or rigid), the walking gait changes because there is no foot or leg alignment, which has a direct effect on your overall posture. Simple put, when women have flat feet, their feet collapse which throws their whole body out of alignment.
The good news is that the correct type of shoes can help correct your body alignment by preventing your feet from collapsing and turning inwards. Let me prove it to you.
Shoes for Flat Feet — Before and After Images
BEFORE
The first image shows a flat-footed woman standing barefoot. Do you notice how her feet are collapsing and turning inwards?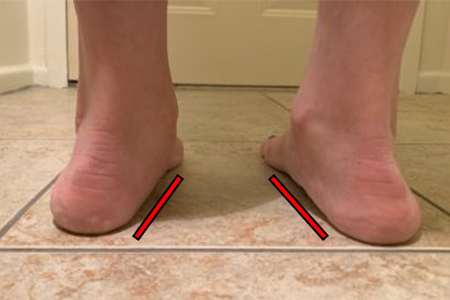 AFTER
The second image shows the same woman wearing a pair of supportive shoes I recommend. Do you notice how her feet are a lot straighter? The shoes are preventing the feet from collapsing.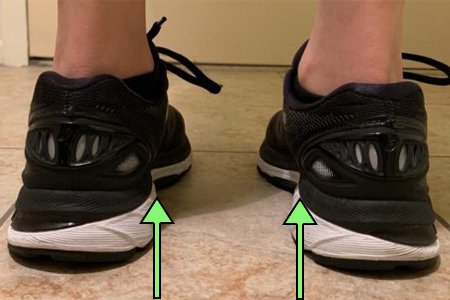 The most common treatment for women who have foot pain caused by adult acquired flatfoot is wearing supportive shoes and/or orthotics.
I wrote a different article that describes the best shoes for women with flat feet:
The Best Shoes for Women with Flat Feet – Let's Support your Feet and Improve your Posture!
If you are already wearing a pair of supportive shoes but your pain persists then I suggest that you take a look at the article below:
The Best Orthotics for Women – Stop your Foot and Leg Pain!
Some women get confused as they start experiencing ankle pain and believe they need extra support from their heels when in fact ankle pain may also be a symptom of flatfoot, as the collapsed arch causes more pressure to be on the ankle bone.
If you have any questions about my method of helping women with flat feet let me know in the comment section below.