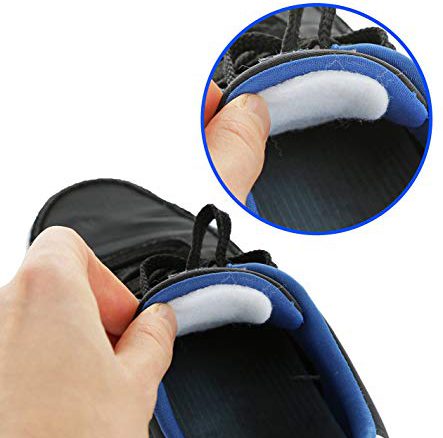 Editor's Note: This post has been completely revamped and updated for accuracy on May 2022 and reflects up-to-date information on how to make narrow feet fit regular width shoes.
Do you always have a hard time finding shoes to fit the shape of your narrow feet? Do you find yourself trying a whole bunch of different shoe styles but you always end up empty handed?
Finding a pair of shoes for a woman with narrow feet can be a frustrating and time-consuming experience. I have written several articles that describe the best narrow shoes for women, but the issue is that most women find that selection of shoes very limited. You can refer to some of those articles below:
Narrow Shoes for Women – The Best Shoe Styles for Women with Narrow Feet
Women Narrow Mary Jane's Shoes — Secure Your Feet & Feel Comfortable!
The Best Narrow Sandals for Women – Waterproof, Lightweight, Supportive, and Durable!
The issue is that after reading those articles several women have asked me for a larger selection of shoes. I would have loved to provide women with a wide range of shoes to fit the shape of their narrow feet, but the reality is that there are not that many.
The good news is that I came up with an idea on how to make regular width shoes ("M") fit the shape of a woman with narrow feet.
One of the most common questions that women ask me is how they can make regular width shoes fit the shape of their narrow feet. Regular width shoes are shoes that come labeled as "medium" or "M". I have found two effective ways that help make regular width shoes fit the shape of women with narrow feet, and I have tested these methods in several women's shoes before.
I have been working for a specialized shoe store for the last 10 years, which has helped me get familiar with the best shoe brands for women and the best shoe styles among those brands.  Some of my coworkers have 30 plus years of experience, and they have taught me everything that I know about fitting women's shoes.
If we can make regular width shoes fit the shape of your narrow feet your shoe choices will open up significantly.
Without further ado, let's take a look at the two most effective ways to make regular width shoes fit the shape of your narrow feet.
How to Make Women's Narrow Feet Fit Regular Width Shoes
1st Method: Tongue Pads
Tongue pads are adhesive backed pads that are placed on the tongue of the shoes and they work in all enclosed shoes. This method is the one I use the most since it's the most cost efficient and effective at the same time.
The tongue pad is going to push your feet back, securing your heels against the back of the shoes and preventing heel slipping. The tongue pad is also going to help fill out any extra space inside the shoe as well.
One of the greatest advantages of using tongue pads is that they can easily be removed in case you don't like how they feel.
For this method to be effective, you will have to place the tongue pad correctly inside your shoes. You will notice that there are two sides to the tongue pads, one being wider than the other one. Please place the wider part on the top of the tongue of the shoe as shown in the image below: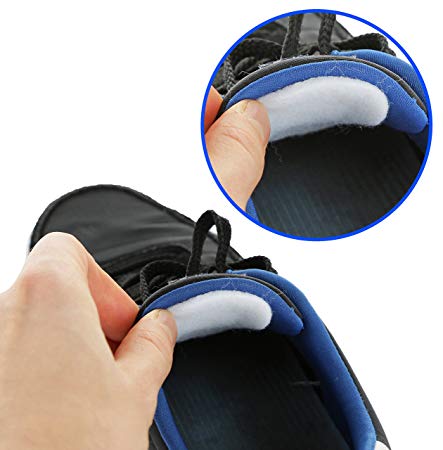 Now that you know how to fit tongue pads inside shoes you are ready to take a look at a selection of the best tongue pads for shoes:
Best Tongue Pads for Shoes ⭐⭐⭐⭐⭐
I recommend trying this method first and if it doesn't work then you can try the second method which involves fitting an extra insole inside your shoes.
How to Make Women's Narrow Feet Fit Regular Width Shoes
2nd Method: Placing an Extra Insole Inside Your Shoes
This method is the second most popular one that I use, and it has worked for several women before.
The insole has to be placed on top of your original shoe insoles, and this is going to raise your feet and fill any remaining gap inside your shoes.
The main issue with this method is that several women have reported how it made them feel like their feet were coming out of the shoes. There is a way to overcome this by lacing your shoes a particular way. I will expand on this shortly.
It's important to find an insole that is made of high-quality materials to last and reduce foot odor. The insole that I recommend is affordable but durable and comfortable at the same time.
The Best Insoles for Shoes ⭐⭐⭐⭐⭐
It's highly likely that you are wearing shoes that come with shoelaces instead of any other type of closure. You should take advantage of this and apply the shoe tying methods that I recommend in the following article:
How to Lace Shoes for Narrow Feet — The Most Effective Way to Prevent Your Heels from Slipping Off the Shoes!
This shoe tying technique it's also going to push your heels back and secure them against the back of the shoes, which will make you feel more secure and confident when walking or running around.
Wearing shoes that are too wide can lead you to develop several foot issues that range from blisters and corns to more serious ones such as ankle sprains.
Please do not hesitate to contact me directly if you are having trouble deciding which method you should try for your shoes:
comfortablewomenshoes@gmail.com 
Have you tried using a tongue pad or adding extra insoles inside your shoes? Please share your experiences below so other women can benefit from them.