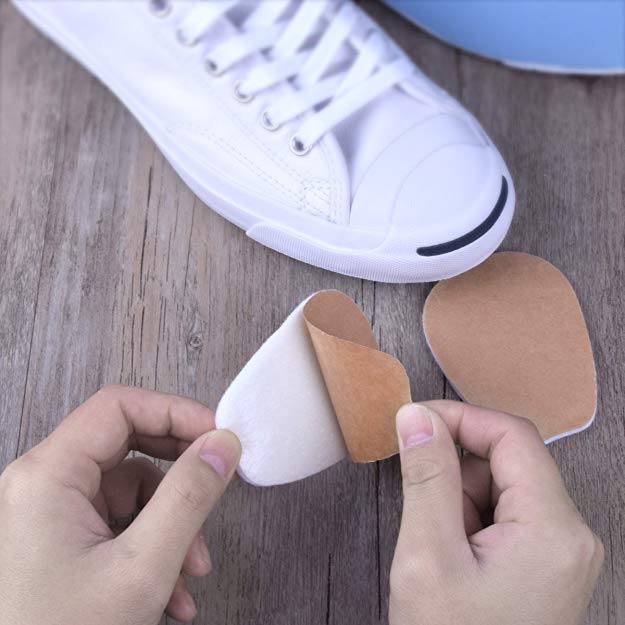 Editor's Note: This post has been completely revamped and updated for accuracy on May 2022 and reflects up-to-date information.
Do you have narrow feet and you feel like your shoes are always slipping off your feet? Have you ever heard of tongue pads? If you are constantly complaining about your shoes slipping every time you walk, start by trying a tongue pad!
Tongue pads are important because they will prevent heel slippage by snugging up a loose-fitting shoe. While they are used for several different reasons, tongue pads are known for providing two main things:
Keeping the heel from slipping
Keeping the foot from sliding forward
First off, let's talk about what a tongue pad is. They are adhesive-backed pads that go in the tongue of the shoes and they work in all enclosed shoes. Tongue pads will work great especially for women that have narrow feet and are having a tough time finding shoes that fit!
You will be impressed by the huge difference a tongue pad will make. They are a very effective way of preventing slippage, and you won't have to worry about your falling by feeling unstable in your shoes. Tongue pads can make the way shoes feel totally different!
Placing one of these felt pads under the tongue of the shoe will push your foot back just enough to make the shoe fit better and remove any gap around the heels. Also, they will significantly reduce or completely eliminate heel slippage.
I have been working for a specialized shoe store for the last 10 years. We specialize in women with foot and leg problems, but we provide regular shoe fittings as well. I have fitted thousands of shoes, and I am familiar with which shoe styles and which shoe brands are better than others. I am also familiar with tongue pads, and I have seen all the benefits of using them.
Most of the time I have used tongue pads for women with narrow feet or narrow heels.
Normally, you can use tongue pads for various reasons:
When your foot moves too much inside the shoe. In which case, the shoe might have been fitted too wide or too long for you.
When you have a narrow foot with skinny ankles.
When you want a slip-on shoe.
In this post, I will show you which are the best tongue pad for shoes and all the benefits that they offer.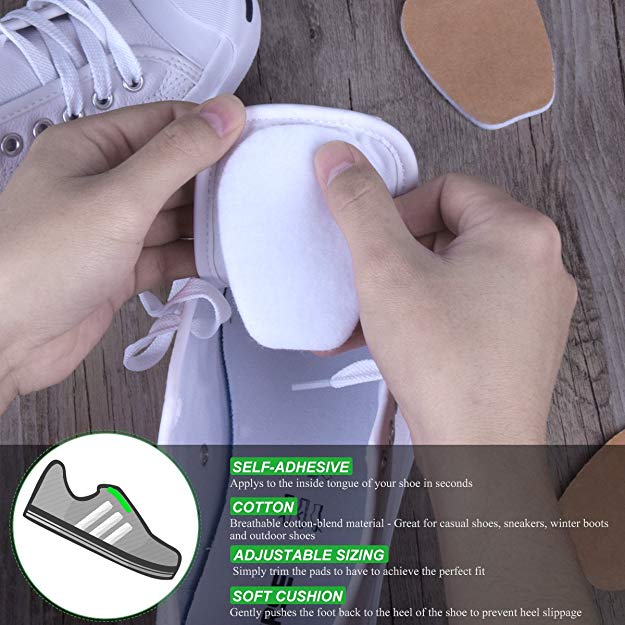 Tongue Pads for Your Shoes – When Should You Use One!
Have you ever worn a shoe that kept slipping out of your foot? Let me tell you that when there is too much heel movement in a shoe your feet will start rubbing against your ankles, which can create several foot problems such as blisters which can develop into corns!
Tongue pads are extremely handy, especially when you use a pair of slip-on shoes and your foot keeps slipping out of them. A slip-on shoe needs to be fitted heel to toe to prevent the shoe from slipping off.
If you feel like your slip-on shoes are always popping out, then you should start by trying a tongue pad. The tongue pad will put more pressure on the top of the foot (instep), and it will push your foot back, securing your heels against the back of the shoes and preventing them from moving up and down every time you are walking or running.
Benefits of Tongue Pads – Making Your Shoes Feel Comfortable!
They will prevent the shoes from sliding forward
They will eliminate heel slipping
Easy to apply. You can apply it in seconds
They can help reduce or eliminate the pain caused by the crease of a shoe
They are very reasonably priced
They can be used in most shoes that have a tongue
They can be easily removed
Tongue Pads – The Best Option for Your Narrow Feet!
It is always challenging for women who have narrow feet or narrow heels to find shoes that actually fit. This is not a surprise, since I have been fitting women's shoes for over 10 years now and it still takes me the longest time to find shoes for women with narrow feet. Shoe companies rarely make sneakers or dress shoes in narrow widths for women, even though some shoe styles run narrower than others.
On several occasions, I have recommended tongue pads for women with narrow feet. Since you are putting more pressure in the instep your foot, the tongue pad secures your heel against the back of the shoe. So, the tongue pad snugs up any remaining gap left inside the shoe!
If you are having a tough time finding tongue pads, you can find the best types on Amazon by the way which also offers the best price for them.
Stop heel slippage! Allow yourself to walk and run comfortably in shoes without the shoes moving up and down! Below you can find a selection of the best shoe tongue pad for shoes:
Fitting a Tongue Pad in the Shoes – Easy and Simple Steps!
Fitting a tongue pad in a shoe is quick and simple, since they are self-adhesive, and they can be easily placed in the tongue of the shoe. The only question that might arise is how do you know which side goes where? Since you will notice that tongue pads have a larger side to them.
In my experience, I always place the wider end closer to the opening of the shoe and turns out that is the correct way of doing it!
Below you can find a picture of the wider part of the tongue pad, and that is placed on the top of the tongue.
Tongue Pads for Women – Improve the Way Your Shoe Fits!
By now, you can tell tongue pads can really make an enormous difference in the way your shoes fit and feel! If you are ready to throw away your shoes because they are feeling too uncomfortable, try a tongue pad first and be the judge of your own experience.
Have you ever tried tongue pads in your shoes? Do you have narrow feet and need of tongue pads in your shoes? Please share your experiences below so we can all benefit from them!