Do you have wide calves and can't seem to find a single pair of snow boots that fit? Finding a pair of snow boots for a woman with wide calves can be a frustrating and time-consuming experience, especially if you don't know what boot brands and boot styles to try.
I have been contacted by several women with wide calves that can't seem to find a single pair of knee-high boots that fit. Let's clarify what is considered a wide calf before we move any further. The general rule of thumb is that if your calf measures 15 ½ inches or more, a wide calf boot might be required to accommodate your calf size.
Most women waste a lot of time and money ordering their snow boots online and returning them all. There is only a small selection of snow boots that are capable of accommodating the shape of a woman with wide calves, but the good news is that I will help you find them!
You are in good hands because I am an expert when it comes to fitting women's shoes since I have been working for a specialized shoe store for the last 10 years.  We specialize in women with foot and leg problems, but we provide regular shoe fittings as well. Over the years I became familiar with the best snow boots for women with wide calves.
I recommend that you start by figuring out the measurement around the largest part of your calf since this will make the journey of finding a pair of snow boots that fit much less stressful.
Most women's snow boot options have a 13 to 15-inch circumference.  The snow boots that I will recommend shortly might fit a woman with an up to a 20-inch circumference.
Trust me when I tell you that it doesn't matter how huge, muscular or fat on top your calves have, there is always at least one snow boot style that will fit the shape of your calves, and I will help you find it.
Boots that are made out of soft leather or suede have higher chances of fitting since they stretch out more and have more give. It can be challenging to find a snow boot made out of leather, but keep on reading because you might be surprised.
I have put together a list of the 3 most important tips that you need to look for when looking for a snow boot that fits wide calves:
✅ Look for snow boots with adjustable laces or buckles at the calves to provide more allowance.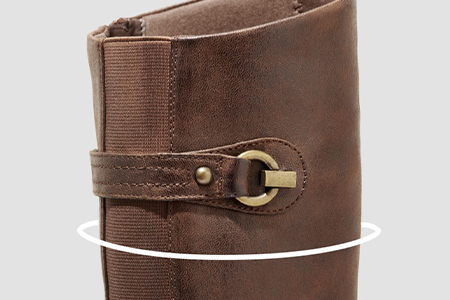 ✅ Look for snow boots that are available in wide or extra wide widths.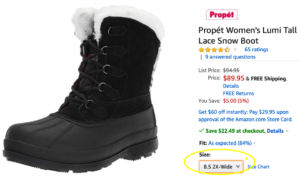 ✅ Look for snow boots with a circumference of 15-inches or more.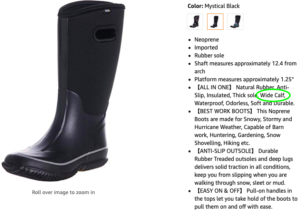 In addition to fitting your wide calves, your snow boots must be waterproof and provide good traction. You also need to make sure that you order the correct boot size since snow boots that are too short can cramp your toes and make them overlap one another or rub against the side of the boots. On the other hand, snow boots that are too long will allow for too much foot movement inside the snow boots and create foot issues such as blisters, calluses, and corns.
Refer to the article below if you need assistance figuring out your exact foot size:
How To Measure Your Foot Shoe Size – The Most Simple And Effective Way!
Are These Snow Boots Going to Fit Your Wide Calves? – Read This!
One thing that I have learned from fitting several different shoe styles during all of these years is that "fits wide calf" can mean something totally different depending on the shoe brand.
Some snow boot styles claim to fit wide calves and they only fit up to a 12-inch circumference.
I have gotten feedback from women with wide calves that these 2 snow boot styles have fitted them perfectly. However, other women have reported that these snow boots were not wide enough for the calves.
The reason I mention this is because I have gotten feedback from women with a 20-inch calf circumference that were able to fit in these boots while some other women with a 16-inch calf circumference stated that the snow boots were still too tight.
I recommend that you give these snow boots a try and see if they fit your particular calf and foot shape.
Now that you know what features the snow boots I recommend provide and how to figure out your exact foot size, you are ready to take a look at a selection of the best snow boots for women with wide calves.
I only review shoe styles that I have fitted before since that is the only way for me to tell how supportive, durable, and most importantly, how the shoes fit. Disclosure: Keep in mind that we may receive commissions when you click our links and make purchases.
Best Snow Boots for Women with Wide Calves ⭐⭐⭐⭐⭐
The Bogs style has gotten the best reviews and have fitted women with up to a 20-inch circumference.
The Propet style snow boot is available in medium, wide, and extra wide widths, so please choose the shoe width accordingly.
Additional Colors Available

Additional Colors Available

To prevent your toes from rubbing against the front or side part of the boots, I highly recommend that you order these boots half a size larger than the size that your feet measure. This translates to 0.3 inches or 0.6 centimeters of space between your longest toe and the end of the boots.
These snow boots are all waterproof and insulated, meaning that they will keep your feet dry and warm during those cold days
Let me show you what other women with wide calves are saying about these snow boots.
Women with Wide Calfs – Do They Recommend These Boots?

If after trying the snow boot styles that I recommend you still feel like it's too tight around your calves, please email me directly and I will explain to you what are the next steps: comfortablewomenshoes@gmail.com 
Have you found a particular snow boot style that has worked well for your wide calves? Please share your findings below so other women can benefit from your experiences.