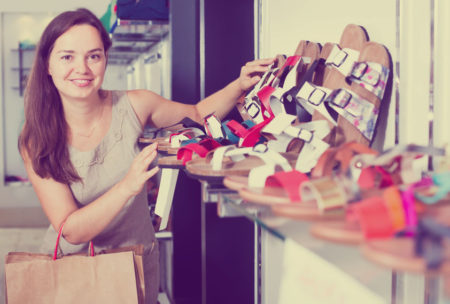 Are you looking for a pair of supportive. durable and affordable pair of sandals for the summer? Additionally, have you heard about Keen sandals?
Keen sandals are the most versatile and popular type of sandals for summer and they can be worn as an everyday sandal to take to the beach or run around during warm weather.
Why are Keen sandals so popular?
Women love them because of the comfort that they provide and how they can be worn every day since they are very supportive.
If you have tried these sandals before you should know on first hand how they are practically indestructible and the great support they provide to your feet and legs. For your information, this is the most supportive type of summer sandal for women and you can even wear these sandals all day!
I have been fitting shoes and orthotics for ten years at a premier shoe store specializing in proper fit for over forty years. We specialize in children, women and men with foot and leg problems, but we provide regular shoe fitting as well. It's important for us to carry top quality shoes that are available in different widths, since that's the only way we can guarantee to FIT every single woman.
For the last three years I have also helped women find their shoes ONLINE and in most cases, they were not aware that a particular shoe style existed in a particular size or width.
In this article I will be addressing which are the best summer sandals for women. The thing is that among the Keen shoe brand, there are certain sandals styles that are better than others, and those are the styles that I will recommend in this article.
Keen Sandals for Women – What Makes them So Special?
Talking about summer time, you need to have a pair of sandals that will be durable, provide good support and dry fast, but also one of the most important features is that it must FIT the shape of your feet perfectly.
INTERESTING FACT: Did you know that Keen sandals come with a footbed that provides an internal support mechanism which is anatomically engineered to provide excellent arch support and cradle the natural contours of the foot?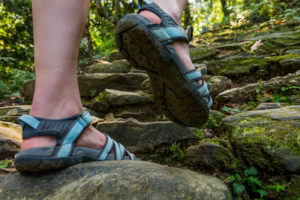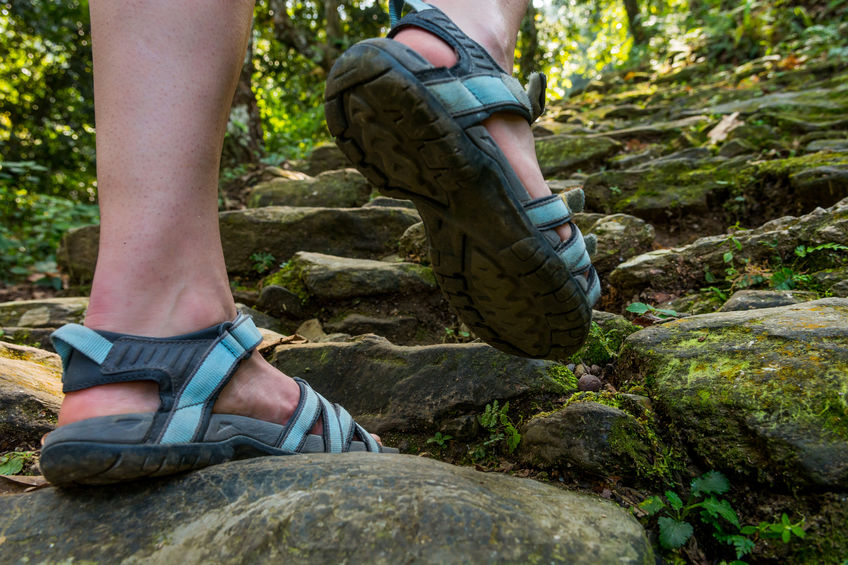 Some of the features that Keen sandals provide are:
Traction: Keen sandals provide great traction, so you can confidently walk around in wet surfaces.
Adjustable hook-and-loop strap: This will allow you to put them on and take them off easily.
Machine washable: All Keen sandals styles are machine washable. Use a small amount of detergent, wash on gentle cycle and air dry. Keep them clean!
A quick-drying webbing: This feature is great because it will allow the sandals to dry quickly.
Support: Keen sandals minimize the impact that your feet take every time they come in contact with the ground since they provide good arch support.
INTERESTING NOTE: You will find very interesting to know that physical therapists always recommend Keen sandals for women who have foot issues such as pronation, flat feet, or rolled ankles since they come with a very substantial sole that provides arch support.
Keen sandals provide several features to your feet, but you must know that if you don't wear the correct shoe size, you won't get any of the benefits that these sandals have to offer.
I always recommend women to have their feet measured at their local shoe store that they TRUST, where a shoe fitter can properly measure their feet, but if you don't have a store in your area please take a look at an article I wrote where I describe the simplest, yet most effective way to figure out your shoe size from home:
How To Measure Your Foot Shoe Size – The Most Simple And Effective Way!
Now that you know how which are the features a pair of good supportive sandals should provide, let's take a look at a selection of the best summer sandals for women.
The Best Summer Sandals for Women – Keen Sandals!
Every time I review a particular shoe style is because I have fitted it before, and the Keen sandals I will describe below are the most supportive and better fitting styles for women. Since I have fitted them before I can tell you exactly how they fit (short, long, wide or narrow).
Please find below a selection of the best summer sandals for women. The first 3 styles will fit a woman with medium or wide feet.Click on the image to see all the different colors this sandal style is available in.
Medium, Wide
Medium, Wide
Medium, Wide, Extra Wide
Medium, Wide, Extra Wide
Narrow, Medium
Narrow, Medium
This selection of Keen sandals fit "true to size" which means that you need to go a half a size longer of the size that you measure in the shoe measuring scale (Brannock device), in order to prevent your toes from rubbing against each other or the front of the sandals.
Keep in mind that you should always round up when purchasing Keen sandals. For instance, if your foot measures a size 4 1/2 you should get a size 5.
If you happen to have children who need a pair of durable and supportive summer sandals, you should take a look at an article where I describe the best summer sandals for children:
Please note that Keen sandals will fit women with medium or wide feet, but they WON'T fit women with extra wide feet. If you have extra wide feet you will have to find an alternative to Keens since they won't be wide enough for her feet.
There is a shoe brand named Drew Cascade which makes all type of shoes, but they are mostly known for their summer sandals. These sandals provide similar support and durability as Keen sandals do, but they fit much wider.
If you need a pair of extra wide sandals you can find them in an article I wrote called:
Extra Wide Sandals For Women – They Do EXIST!
Also, Keen sandals will be the perfect match for you if you love the outdoors and like going hiking, camping, zip lining, city touring, running around, etc. It's an all-terrain sandal that you can wear mostly everywhere!
These sandals are supportive, durable, and comfortable. If you have been looking for a pair of comfortable summer shoes, Keen sandals got you covered. You will love how you can wear them all day without your feet or legs getting tired and wear them everywhere that you have to be active.
What to Do if Keen Sandals Start Smelling? – Tips and Tricks!
Significantly, I have heard people comment about how bad Keens start to smell after you wear them for a couple of months. Imagine you are wearing them most of the day throughout the summer, of course there is a high chance that the sandal will start smelling.
Some women even raised a concern that it is really hard to get rid of the smell. Unfortunately, there are no products in the market right now that can help get rid of the smell, so DO NOT waste any money in products thinking that they will help.
However, there is a home-based method you should try that has worked for a lot of women. This home-based method is used with baking soda and vinegar and you will notice how the smell will be greatly reduced or fully eliminated! Please make sure you rub it throughout the sandal, especially in the neoprene part.
This is the most effective way to get rid of the smell. I recommended this to several women and they have tried this home-based method and said it significantly reduced and, in most cases, fully eliminated the smell!
If your children wear Keen sandals, you can try this trick in their sandals as well! Several parents have raised the issue of  how their kids Keen sandals developing a smell after they worn them for a couple of times.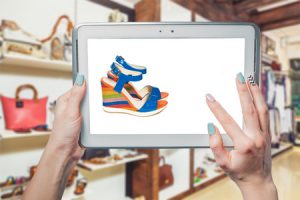 Get Keen Sandals for Women for Half the Price!
INTERESTING NOTE: Did you know that if you wear a woman shoe size 8 (or smaller) you can get the kid's version of a size 6 and you will pay half of the price for the sandals?
I know! Pretty awesome, right? Please keep in mind that this shoe size conversion will only work if you wear a women's shoe size 8or smaller. I wrote a post where I explain how this shoe size conversion between women and kids works:
Women and Kids Shoe Size Conversion Chart – Save Big Buying Kids Shoes!
After reading that article you will learn the secret of how other women are saving up so much money by buying the kids' version of the shoes.
Now that you know which are the best summer sandals for women, you are ready to make the most informative decision! Keep in mind that Keen sandals are also extremely popular among children, since they can wear them all summer to their activities or to summer camp.
Do you already own a pair of Keen sandals? What is your favorite style? Have you been able to get rid of the smell? Please share your thoughts and experiences so we can all benefit from them!