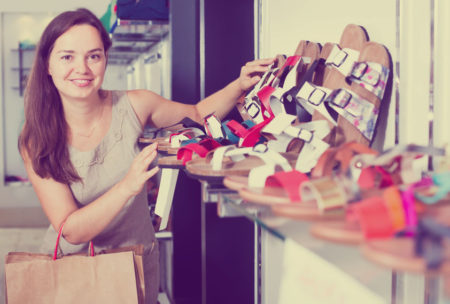 Do you always have a hard time finding a pair of summer sandals that will fit the shape of your narrow feet? Are you spending a lot of time trying different styles but always end up empty handed?
Finding a pair of sandals to fit the shape of your narrow feet can be quite time-consuming if you don't know which shoe brands or which shoe styles to look for.
I am an expert when it comes to fitting women's shoes since I have been working for a specialized shoe store for the last 10 years (this means that I have 10 years of experience understanding narrow feet). Moreover, we specialize in helping women find the correct type of shoes and orthotics to reduce or fully eliminate the foot and leg pain that they were having, but we provide regular shoe fitting as well.
It's important for us to carry top quality shoes that are available in different widths, since that's the only way we can guarantee to FIT every woman.
Finding a pair of narrow running or casual shoes is hard, but it gets harder when it comes to finding a good pair of sandals to fit a narrow foot since the selection is even smaller.
To your advantage, I have fitted narrow sandals for women before, and I am familiar with which particular styles will fit narrower than others.
Wearing a pair of sandals that are too wide means that your feet will end up moving too much inside the sandal and that constant friction and rubbing against the shoe will lead to blisters, calluses, and corns. Moreover, wearing a sandal that is too wide can also lead to foot and leg pain, since your feet are not getting the proper support from the sandals.
If you are tired of stuffing your sandals with heel pads, or shuffling your feet and curling your toes to keep from stepping out of them then you came to the right place. For the last 3 years I have been helping women find the perfect pair of shoes online.
I want you to remember one thing: It doesn't matter how narrow or wide your feet are, there is always at least one particular shoe style out there that will fit the shape of your feet perfectly, and I will HELP YOU find it!
Let me show you a selection of the best narrow sandals for women that I have fitted before. Please keep in mind that I only review shoes that I have fitted before, since that is the only way for me to tell how well made the shoes are, the type of support that they provide, and how they fit.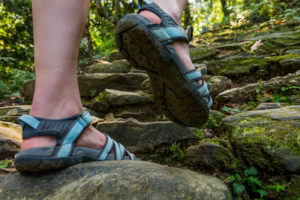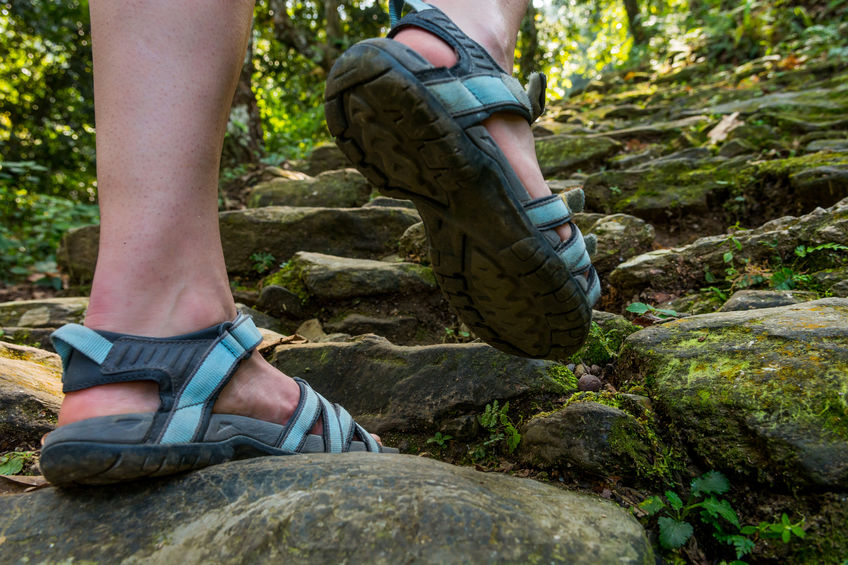 Sandals for Narrow Feet – Let's Get Familiar with the Best Brands!
There are a couple of shoe brands that are consistent when it comes to fitting a woman with narrow feet which are Propet, and Teva (certain styles).
Have you heard about these two shoe brands before?
I have fitted sandals from these brands before and Propet is consistent and most of their shoe styles will fit a woman with narrow feet (as long as you choose the correct shoe width). Propet sandals are actually available in narrow widths!
When it comes to Teva there are certain styles that fit much narrower than others, and to facilitate the searching process for you, I will describe the best sandals styles from these two shoe brands.
Teva sandals are great because they provide really good support and they can be worn for most of the day.
The most important features that the sandals I will describe in this article will provide are:
Substantial sole with a built in arch: This feature will prevent your feet and legs from easily getting tired, by reducing the impact that your feet take when they come in contact with the ground.
Traction: This feature will prevent you from slipping and falling down, specially when walking in wet surfaces.
Secure Velcro strap closure: This feature will allow the sandal to "hug" your feet so you can feel more stable when you are walking.
Why are Narrow Sandals so Hard to Find? – Let's Find Out!
The main reason why shoe companies don't offer a greater variety of sandals in narrow widths is because they simply think there is not enough demand. It is true that most women have medium, wide, or extra wide feet, but I still think there are a lot of women out there with narrow feet, and the issue is that most of them don't even know it!
There are two ways you can find out if you have narrow feet or not. One of them is to measure your feet with the standard foot measuring tool called the Brannock device, and the other one is to check the shoes that you are currently wearing.
If you want to figure out your foot size from home, then take a look at an article I wrote where I describe the simplest, yet most effective way to figure out your foot size from home:
How to Measure your Foot Size – The Most Simple and Effective Way!
Now let's check if the shoes that you are wearing are too wide.
The first step is to check if you can slide one or two fingers around the heel area of the shoe that means the shoe is too wide: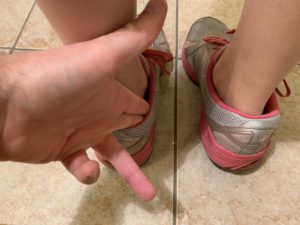 The second step is to check if you feel like there is a lot of extra space around the toed-box of the shoe: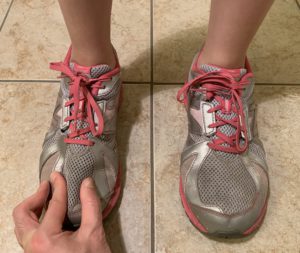 If you normally feel like there is always a gap when you are wearing shoes, then it's highly likely that you have narrow feet.
One of the most common mistakes I see women make is to try shorter shoes when they feel like the shoes are gaping too much around their ankles This usually ends up in their toes being cramped against the front of the shoes.
Now that you know how to figure out your foot size from home and what features the sandals must provide in order to keep your feet and legs healthy, let's take a look at the best sandals for women with narrow feet.
The Best Sandals for Narrow Feet – ⭐⭐⭐⭐⭐
These sandals will not only fit a woman with narrow feet, but they will also provide excellent features since they are also supportive, lightweight, flexible, and provide great traction.
Furthermore, these sandals can be used as everyday sandals and that you can wear for most of the day, since they will provide good support and traction for your feet. However, I always recommend alternating with sneakers since sneakers will always provide more support than sandals or any other shoe style.
The good news is that you can wear these sandals for most of the ay if you want to. The two styles by Teva can be worn as every day, the styles made by Propet are more casual and I don't recommend you wearing them for more than 6 hours a day.
Here you can find a selection of the best narrow sandals for women:
All of these sandal styles fit "true to size", which means that you need to go a half a size longer of the size that you measure in the standard foot measuring scale (Brannock device) in order to prevent your toes from rubbing against the side or the front of the sandals.
Please keep in mind that shoes can run short, long, narrow, or wide, and depending on how they run you will need to adjust the size that you get for yourself.
You always want to wear a half a size longer of the size that they measure in the shoe measuring scale to allow a comfortable fit.
Do you happen to have a child with narrow feet that also needs a pair of summer sandals? I wrote an article where I describe the best summer sandals for kids with narrow feet. Kindly go to the link below.
The Best Sandals For Narrow Feet – Find The Secret Here!
Have you found a particular sandal style or brand that has worked well for your narrow feet? Please share your thoughts and experiences below so other women can benefit from your experiences.