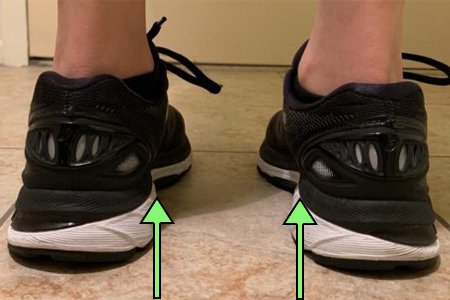 Do you have flat feet and have trouble finding supportive shoes for yourself? Flat feet is a very common condition, but if you don't wear the correct type of shoes it can lead to foot, leg, and back pain. Nevertheless, you should take action sooner than later if you want to avoid bigger problems in the future.
Certainly, since it is a common condition, you most likely had already heard about flat feet before. Although, sometimes you might become confused by the different information provided in commercial advertisements. There is some inconsistency and the use of technical words can also be confusing.
To get you into perspective, flat feet can affect the alignment of your body as you are standing, walking, or running. As a consequence, this can increase the likelihood that you experience knee, foot, hips and ankle pain.
I can help you find the perfect pair of shoes to support your flat feet, align your feet and legs, and help you walk and run straighter. I have been working for a specialized shoe store for the last 10 years, and I am an expert when it comes to fitting women's shoes. Moreover, I have been helping women find the correct type of shoes and orthotics to reduce or fully eliminate the foot and leg pain that they were having. Even though we specialize in women with foot and leg problems, we provide regular shoe fittings as well.
Flat feet is a cause for an uneven distribution of your body weight. This may result in your shoes wearing down unevenly or more quickly than usual. This happens usually on one side and this can lead to other pain or injuries.
While some women are born with flat arches, for others, their arches will gradually fall over time due to age or the pressures of heavy or high impact activities.
The good news is that the correct type of shoes will straighten your feet by preventing them from collapsing.
Let me prove this to you…
Below is a picture of a woman that is flat-footed wearing a pair of unsupportive shoes. Do you notice how her feet are collapsing and turning inwards?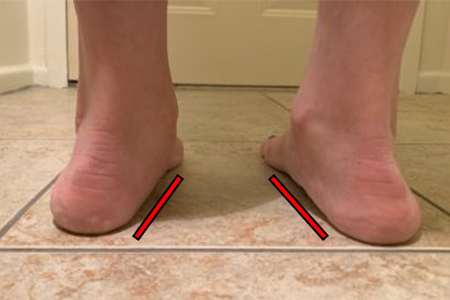 Now let's take a look at a picture of the same woman wearing a pair of supportive shoes. Do you notice how much straighter her feet are?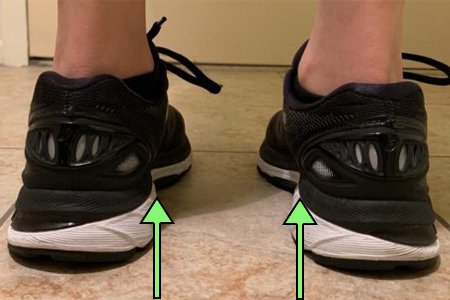 Something so simple just as wearing the correct type of shoes will make a tremendous difference in the way you walk and run.
Be assured that if you are looking for the best shoes for flat feet, you must wear a pair of good supportive shoes. By good supportive shoes I mean shoes that provide good arch as well as ankle support. The first pair of shoes shown in the first picture don't provide any arch or ankle support, that is why the feet are not properly supported. Take a look at the picture below that shows how flabby the shoes are: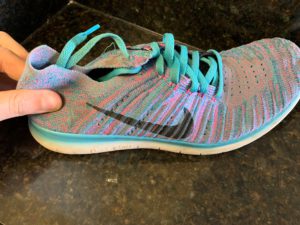 The second pair of shoes come with features that make them more substantial around the arch and the ankle part of the shoe: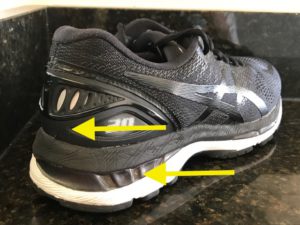 On that note, please keep in mind that more expensive shoes don't automatically translate into better shoes. You don't have to pay a ton of money to buy a good pair of supportive and high-quality shoes.
Causes of Flat Feet – Let's Find Them All!
You should note that many women have no signs or symptoms associated with flat feet. However, some women with flat feet experience foot pain, particularly in the heel or arch area. As imagined, the pain might potentially worsen with activity, especially high impact activities. There might also be swelling along the ankle.
Women who experience knee, hip, and lower back pain are also more likely of having flat feet. The main reason for this is that when you are flat-footed, your feet collapse and this throws your whole body out of alignment, making you put pressure in areas of your body where you are not supposed to.
So, it is important to detect and identify which are the main factors that can lead and often be the main cause of flat feet. Take a look at the following list:
Genes
Prior foot or ankle injury
Weak arches
Muscle diseases
Arthritis
Obesity
Diabetes
Developmental issues from childhood (bone development)
Spina bifida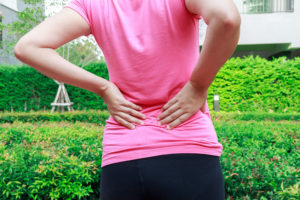 Flat Feet Complications – Take Early Action!
Women that have had flat feet over time, and have even other foot, ankle or leg problems should be especially aware of the complications they might have due to flat feet.
If you feel any great discomfort or pain, you should consult your doctor or physical therapist, but always START by making sure that you are wearing the correct type of shoes.
I just want to emphasize that there is a higher risk that women with prolonged flat feet might get some of the following complications. Nevertheless, every case is different and also each body is unique. Take a look at the list below.
Bunions
Hammertoes
Arthritis in the ankle or ankles
Arthritis in the foot or feet
Plantar fasciitis, an inflammation of the ligaments in the soles of the feet
Posterior tibial tendonitis
Achilles tendonitis
What Makes the Shoes I Recommend Effective for Flat Feet?
One of the things that I want to highlight is to never underestimate comfort, especially if you are dealing with a prior foot issue. If you have flat feet and have no pain, you are lucky. But please don't underestimate the importance of wearing good, supportive and comfortable shoes.
Also, I would like for you to keep in mind that there are 2 key features that the shoes I recommend provide that will help keep your feet comfortable and healthy:
☑️ Arch support/Shock Absorption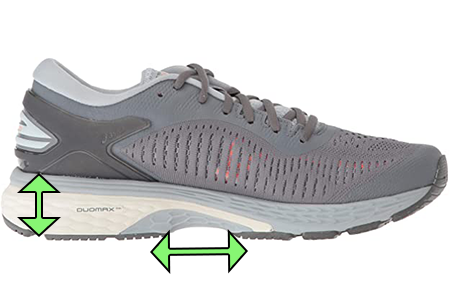 ☑️ Ankle Support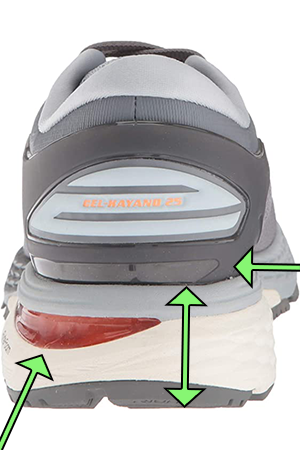 The shoes I describe below provide all of these features and have proven to considerably reduce, or fully eliminate the pain that women were experiencing. Disclosure: Keep in mind that we may receive commissions when you click our links and make purchases.
The Best Shoes for Women With Flat Feet ⭐⭐⭐⭐⭐
If flat feet are causing pain, then supportive, well-fitted shoes can help, they should provide you relief and potentially lessen or eliminate your pain. Below you can find a selection of the best shoes for women with flat feet. These shoes are available in narrow (N), medium (M), wide (W), and extra wide (XW) widths.
Fits Narrow – Medium

Fits Wide – Extra Wide

Fits Wide – Extra Wide

Fits Wide – Extra Wide

Fits Wide – Extra Wide

Fits Narrow – Medium

To prevent your toes from rubbing against the front or side part of the shoes, I highly recommend that you order these shoes a half a size larger than the size that your feet measure. This translates to 0.3 inches or 0.6 centimeters of space between your longest toe and the end of the shoes.
If you don't know your exact foot shape and size please refer to an article I wrote where I describe the simplest, yet most effective way to figure out your foot size from home. For example, do you know whether you have narrow, medium, wide, or extra wide feet? Do you know whether you have a high instep or not?
How To Measure Your Foot Shoe Size – The Most Simple And Effective Way!
In addition, if you happen to have a child with flat feet you should take a look at an article I wrote where I describe the best shoes for kids with flat feet. Please go to the link below.
The Best Shoes For Kids With Flat Feet – STOP Your Kids Foot Pain!
Orthotics for Flat Feet – When the Shoes are Not the Solution!
Like I mentioned before, there will be certain cases in which a pair of good supportive shoes won't be enough to help you walk and run straighter. In this case, you will have to try an orthotic inside your shoes.
Are you familiar with orthotics? An orthotic is a shoe insert that is specifically designed to provide support, cushioning, stability, and which at the same time attenuates the pressure on the foot.
Orthotics and fitted insoles or even custom-designed arch supports may relieve and attenuate pressure on the arch and reduce pain if your feet roll inward too far.
Orthotics can also make a tremendous difference in improving your overall posture. Let me prove it to you! Below is a picture of a flat footed woman standing barefoot: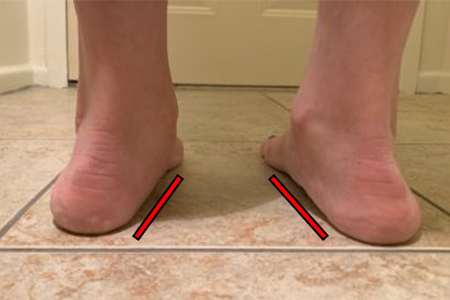 Now let's take a look at a picture of the same woman standing in a pair of supportive orthotics. Do you notice how much straighter her feet are?
Please do not hesitate to contact me via e-mail or in the comments section with further questions, which I will do my best to answer: comfortablewomenshoes@gmail.com
The shoes I recommended are all running shoes that can be used for everyday walking. If you are looking for casual shoes that provide arch support take a look at a different article I wrote called:
Women Casual Shoes With Arch Support – The Best Shoes to Support your Feet!
I will continue posting informative articles and keep addressing important topics such as this one.