Editor's Note: This post has been completely revamped and updated for accuracy on May 2022 and reflects an up-to-date selection of the best women's shoes for tennis.
It doesn't matter if you are a seasoned player or a beginning one, choosing the correct type of tennis shoes will make all the difference in your game and in keeping your feet and legs healthy. Most people spend a lot of time trying to find the perfect racquet, and they end up forgetting about the importance of wearing the correct type of tennis shoes.
I am always emphasizing to women to wear specific sports shoes for that particular sport they want to play if they want to keep their feet and legs healthy.
It doesn't matter if you have just started playing tennis or if you have been playing the sport for years, you must wear the correct pair of shoes! There is a reason why sport specific shoes exist! The benefit of actually wearing sport specific shoes is that you will allow yourself to perform at your best, while also preventing foot pain and foot/leg injuries!
One thing that is going to determine what type of tennis shoes you need is the type of court you are going to be playing on (grass, clay, or hard courts).
There is a myriad of options available in the market, but the perfect tennis shoe should provide good shock absorption to minimize the impact that your feet take every time they come in contact with the ground, a firm heel counter that will support your ankles when you are moving side to side, good traction to prevent you from slipping, and it must be durable to hold up properly.
Regular trainer shoes do not cut it on the court and you shouldn't play with them since they lack the support around the ankles and the durability in the soles, meaning that they will wear out quickly.
Did you know that when women play sports, they stress their feet and legs at a whole different level, putting them at a higher risk for injuries? If you have ever played a sport, you probably know how much more our feet impact the ground than when we are walking or running. Wearing the correct shoe size, width, and style is not something to take lightly.
Why is it so important to wear the correct type of tennis shoes?
In tennis, you are constantly making sudden stops and there is a lot of lateral movement involved. For you to perform at your best and prevent injuries, we must find shoes with particular features, like a firm heel counter (provides later support) and excellent grip so you can make sudden stops without slipping!
I have been working for a specialized shoe store for the last 10 years. We specialize in women with foot and leg problems, but we provide regular shoe fittings as well. I handle approximately 100 hundred fittings/ try-ons per week. Over the years I became familiar with the best women's shoes for tennis.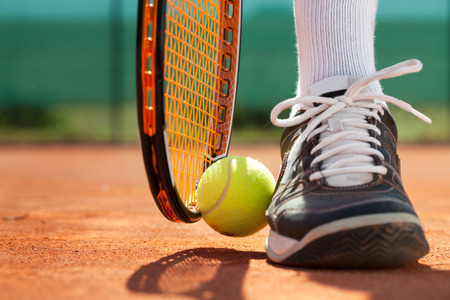 Bear in mind that you can be wearing the most supportive and best made pair of tennis shoes, but if they are not fitted properly, you won't enjoy any of the benefits that the shoes have to offer! It all starts with getting the correct shoe size and width!
Did you know that 8 out of 10 American women wear shoes that don't fit, and you might be one of them? (American Orthopedic Foot and Ankle Society)
In this post, I will provide you with a selection of the best women's shoes for tennis.
But…
Before I reveal the secret of the best women's tennis shoes, I want to make sure that you know your exact foot size.
Start by reading an article I wrote where I describe the simplest, yet most effective way to figure out your foot size from home.
How To Measure Your Foot Shoe Size – The Most Simple and Effective Way!
Women's Tennis Shoes – Wearing Them as Everyday Shoes
Certain tennis shoes can be worn as everyday shoes, and those are the ones I will describe in this article. Tennis shoes are made to withstand the rigor of the tennis courts, which makes them extremely durable shoes.
However, you need to make sure you are taking care of the shoes by taking them off and putting them on properly. This simple thing is often ignored by most women and is highly important because every time you take your shoes off without untying them, you are stretching out the heels of the shoes, making the shoes less supportive!
So, if you want to take advantage of the sturdiness of sport specific shoes and get two shoes in one you need to take care of your shoes!
In some cases, tennis shoes may appear to be pricey but when you consider just how much you put your feet through on court then why not make an investment?
The shoe styles I will describe below are very reasonably priced for the features that they offer.
The following are key features that tennis shoes must provide:
Shock absorption
Extra lateral support
Extra cushioning
Reinforced soles
Reinforced toecaps
Heavier and stiffer materials
The Best Women's Shoes for Tennis 
Some of the tennis shoe styles I will describe below come in medium and wide widths to make sure that they will fit the shape of your feet. Disclosure: Keep in mind that we may receive commissions when you click our links and make purchases.
CLAY COURT TENNIS SHOES FOR WOMEN ⭐⭐⭐⭐⭐
This first shoe style is recommended specifically for clay courts and it provides the following features:
Stability and lateral support: that's because you're moving side to side before setting your feet for the shot.
Great grip since the dusty clay courts will not offer you much traction.
A well-designed outsole that releases clay from its grooves and doesn't leave marks on the court.
Durable sides so your shoe doesn't get damaged.
Lateral support as you move side to side along the baseline
A tight upper that keeps your foot secure as you move around the court
---
HARD COURT TENNIS SHOES FOR WOMEN ⭐⭐⭐⭐⭐
This shoe style is recommended specifically for hard courts and it provides the following features:
The hard courts demand a lot from your shoes, so these are the features this shoe style will provide:
A tough outsole that can handle the demands of a hard court surface.
Cushioning and bounce-back because the hard court can be unforgiving on your feet and legs.
Tough upper that gives you stability when you're moving around the court.
---
GRASS COURT TENNIS SHOES FOR WOMEN ⭐⭐⭐⭐⭐
These are the features this shoe style will provide when you are playing on grass courts:
Good grip because grass courts can be slippery, either because of dew or because it's worn down over time.
A flatter outsole so that they don't damage the court – in fact, players on certain tournament lawns have to wear completely flat tennis shoes.
Flexible upper so that when you run forward towards the ball, your feet are not constricted.
There's less need for durable outsoles on grass courts since the surface is softer underfoot and doesn't damage your shoes as much as hard courts.
---
What Shoe Size Should You Order?
Take a look at the description below the shoes that I recommended to find out what shoe size you should order.
All of these three shoe styles provide excellent midfoot support and will allow you to push your footwork to the limits on the tennis courts daily!
The excellent cushioning that it provides attenuates and reduces the impact and shock that your feet receive every time they impact on the ground! The rubber outsole of the shoe also provides excellent grip and traction not just for when you are playing tennis, but also for exercising elsewhere including long walks.
These shoe styles will not only keep your feet healthy and allow you to perform well on the tennis court, but they are also versatile and can be worn as everyday shoes!
Do you happen to have a child that needs a pair of good tennis shoes? I created an article where I describe the best wide tennis shoes for children, and you can find that article here:
Are You Having a Hard Time Finding Shoes for Your Foot Shape?
You can ask your questions in the comment section below or contact me via email:
comfortablewomenshoes@gmail.com
Do you already have the right pair of tennis shoes? Have you been looking for tennis shoes for a while now? Have you found a particular pair of tennis shoes for your feet? Please share your thoughts and experiences below so we can all benefit from them!