Editor's Note: This post has been completely revamped and updated for accuracy on May 2022 and reflects up-to-date information on what is the best Asics shoe for walking?
Have you been looking to buy a pair of Asics shoes but you are unsure about which style will work best for your foot condition or foot shape? Did your medical professional recommend a pair of Asics shoes but didn't specify which style you should get? I will be able to show you what is the best Asics shoe for walking based on my shoe fitting experience.
My Experience Fitting Women in Asics Shoes
I will help you out and you will benefit from my extensive knowledge and experience in fitting women 's shoes and orthotics which are a result of working in a specialized shoe store for over 10 years. Over the years I became familiar with the best Asics shoes for women.
It's important to understand that not all Asics shoes are the same. For example, not all Asics shoe styles provide the same levels of support and stability, so you much choose them carefully.
Why Do Women Choose Asics Over Other Shoe Brands?
Asics is built on a 70-year legacy, thriving with continuous efforts of innovation and shoes made with high end technology. Did you know that they have their own Institute of Sport Science in Kobe, Japan, where scientists, athletes and coaches work together to research and to try to create better fitting shoes?
This is amazing, as these professionals get more and more knowledge and experience each time, aiming to make even better shoes from which all women (athletes and non-athletes) can benefit.
With so many walking shoes to choose from, it can be overwhelming to decide which Asics shoe is right for you.
What Makes the Asics Shoe that I Recommend Ideal for Walking?
☑️ Infused Gel:  The walking shoe that I recommend comes with extra infused gel to provide maximum shock absorption and keep your feet and legs healthy. Let me show you a picture of where the support is coming from. This particular shoe style has gel around the whole sole of the shoe, which will provide you with shock absorption every time your feet come in contact with the ground.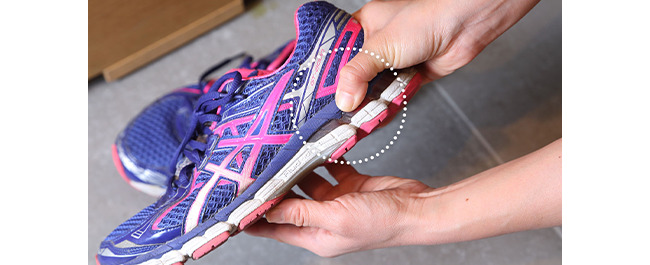 ☑️ Ankle and Heel Support: The shoe comes with a firm heel counter that provides extra support around the ankle area, and this extra support will help keep your heels protected and healthy. Adequate support for the heel and ankle is extremely important if you want to keep your feet healthy while walking. The heel counter is the back part of the shoe, and if you are not sure where the heel counter is located take a look at the image below:
☑️ Arch Support: The walking shoe that I recommend provides good arch support, and this feature will help reduce or fully eliminate the shock that your feet receive every time they impact the ground.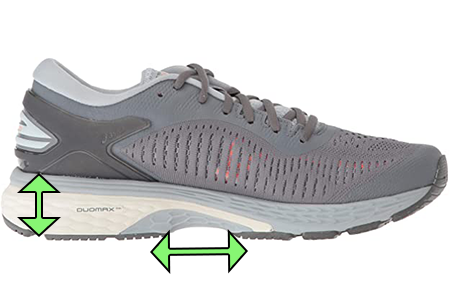 Before I show you the best Asics shoe for walking I want to make sure that you know your exact foot length and shape. Don't insist on getting your shoes in a specific size simply because that has been the size that they always wore. I usually have to insist to them that they need to at least try the shoes in a different size to see how they feel.
When Was the Last Time You Checked Your Foot Size?
Your foot shape and size can change over time, and some of the factors that contribute to this change are pregnancy, aging and weight gain or loss. Over time and because of gravity, our feet might get longer and wider.
As we age, the body's ligaments and tendons lose their strength and ability to spring back. This means that our arches decrease, which flattens and lengthens the foot and toes.
This often results in an increase in shoe size by a half-size or more. You might also experience a change in foot width, meaning that even though you always ordered medium width shoes now you might have to start ordering wider shoes.
How to Retrieve Your Exact Shoe Size
Buying shoes online can be a challenge. If you are unsure of your current foot shape or foot length, I suggest that you take a look at a different resource I created where I help women determine their exact foot shape from home:
How to Measure Your Foot Shoe Size – The Most Simple and Effective Way!
Below you can find the best Asics shoe for walking. Disclosure: Keep in mind that we may receive commissions when you click our links and make purchases.
What is the Best Asics Shoe for Walking? Gel-Kayano⭐⭐⭐⭐⭐
This shoe can fit women with narrow or medium feet, so make sure that you order the correct shoe width. Even though this shoe style is available in wide widths (W) I don't recommend it for women with wide feet, as it tends to fit on the narrower side.
Fits women with narrow or medium feet
Rearfoot and Forefoot GEL Technology Cushioning System helps attenuate shock during impact and toe-off phases
DuoMax system enhances stability and support
Engineered mesh upper improves breathability
Order this shoe a whole size larger than your longest foot size
Additional Features of the Gel-Kayano:
☑️ Infused GEL: The signature GEL technology minimizes impact and protects your joints when walking.
☑️ Seamless Materials:  This feature keeps runners free from uncomfortable pressure points or chafing.
☑️ Eyelets: Dispersed eyelets allow for more even pressure distribution over the lacing.
☑️ Removable Insoles: This feature can be useful when you are trying to fit an orthotic inside the shoe.
☑️ Breathability:  Your walking shoes must be breathable to prevent bacteria from building up inside the shoe.
☑️ Flexibility: The shoes that we choose must be flexible and lightweight, so our feet and legs do not get tired easily.
What Shoe Size Should You Order?
To prevent your toes from rubbing against the front or side part of the shoes, I highly recommend that you order these shoes half a size larger than the size that your feet measure. This translates to 3/16 inches or 0.4 centimeters of space between your longest toe and the end of the shoes.
If you happen to wear orthotics I strongly suggest getting the shoes a whole size bigger (3/8 of an inch or 0.8 centimeters).
Are Asics Gel-Kayano Worth it?
One of the features that makes the Kayano one of the best ASICS walking shoes for women comes from the cushioning.
If you buy the shoes in the correct size, you will notice how supportive and comfortable the Gel-Kayano is. Most women who try the Kayano for the first time tell me how the comfort is superior to any other shoe they have tried.
If you want to see a selection of the best Asics running shoes for women I suggest that you take a look at the article below:
The Best Asics Running Shoes for Women – The Most Supportive, Lightweight, Flexible, and Durable Styles!
Remember that Asics tend to work best for women with narrow or medium width feet. Even though some Asics shoe styles are available in wide widths they still fit on the narrower side.
Do not hesitate to contact me at my email if you have any questions or if you are having a hard time finding a specific pair of shoes for your feet:
comfortablewomenshoes@gmail.com
Let me know in the comment section below if you have already tried the Asics Gel-Kayano or if you have tried a different shoe style that worked well for your feet. I am sure other women will benefit from reading about your experiences!