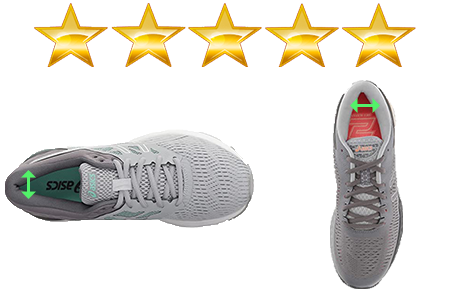 Do you always feel like your heels slip out your shoes? Have you tried different shoes and lacing techniques but your heels keep moving up and down? For the last 10 years I have been working for a shoe store that specializes in women with "complicated" foot shapes. I have helped hundreds of women with narrow heels find the correct pair of shoes, and I believe I can help you too. I will shortly show you a selection of the best women's shoes with narrow heels.
Narrow heels are seen frequently in women. Some women narrow heels and a wide forefoot, while some others narrow heels and a narrow forefoot as well. Whichever foot shape you might have, finding a pair of shoes with narrow heels can prevent heel slippage.
Heel slippage is the worst! It will not only lead to discomfort and pain, it can also create other foot issues such as blisters and corns.
After working 10 years for a specialized shoe store I know which shoes come with narrower heels. I also know other shoe hacks that we can try in case you already own a pair of shoes with narrow heels but your feet keep slipping out the shoes.
What Makes the Shoes I Recommend Effective for Women with Narrow Heels?
☑️ Narrow Heel Counters: This is the back part of the shoes and the narrower it is, the better. Let me show you the difference between two shoes that are the same length and width but provide very different heel counters. Do you notice how the shoe on the right has a narrower heel counter compared to the shoe on the left? This is exactly the type of shoe you need to prevent heel slippage.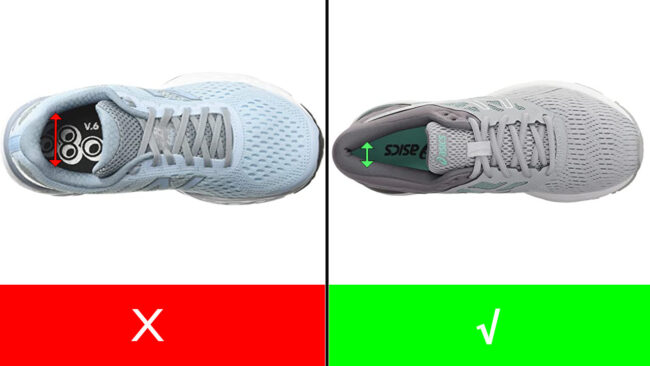 ☑️ Extra Padding Around the Heels: This is also an important feature as it will help fill any remaining gap around your heels which will help prevent heel slippage and increase comfort and stability. Some women complain that their shoes wear out in the heels, so it's important for your shoes to provide a nice cushy heel.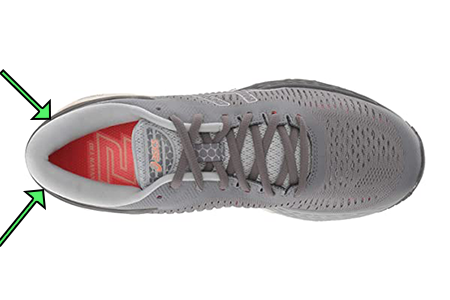 In addition to providing narrow heel counters and extra padding around your heels, the shoes I recommend are also supportive, lightweight, flexible, breathable, and durable.
I will show you a selection of sneakers that provide these important features, but before we move any forward I want to make sure that you know your exact foot size.  You have no idea how many women walk into the store assuming that they are a certain shoe size but walk out of the store wearing a totally different size.
Are You 100% Sure of Your Exact Foot Length, Width, and Instep Height?
Just because you have worn a certain size for most of your life that doesn't mean that your foot size has not changed. Did you know that as we age the body's ligaments and tendons lose their strength and ability to spring back? This means that our arches decrease, which flattens and lengthens the foot and toes. This often results in an increase in shoe size by a half-size or more.
In addition, do you know whether you have narrow, medium, wide, or extra wide feet? Do you know whether you have a high instep or not? I help women determine their exact foot shape in a different article I wrote called:
How to Measure Your Foot Shoe Size – The Most Simple and Effective Way!
Now that you know your exact foot shape, let's take a look at the best women's shoes with narrow heels. The shoes below are also capable of fitting women with narrow heels and a wide forefoot. Disclosure: Keep in mind that we may receive commissions when you click our links and make purchases.
Best Women's Shoes with Narrow Heels ⭐⭐⭐⭐⭐
I suggest that you take a look at the description below each shoe image to check what type of foot shape that particular shoe style is capable of fitting. The shoes below can fit women with narrow, medium, or wide feet, but they won't fit women with extra wide feet.
Fits Narrow – Medium – Wide

Fits Narrow – Medium

Fits Narrow – Medium -Wide

Fits Narrow – Medium

Fits Narrow – Medium

To prevent your toes from rubbing against the front or side part of the shoes, I highly recommend that you order these sneakers half a size larger than the size that your feet measure. This translates to 0.3 inches or 0.6 centimeters of space between your longest toe and the end of the shoes.
Shoes with laces offer women the advantage of customizing the fit of the shoe to suit their foot type.
If after trying any of the shoes I recommend in the correct size you still struggle with heel slippage, there are some other hacks you can try to narrow your heel area.
Hack #1: Shoe Lacing Technique for Women with Narrow Heels
☑️ Apply the shoe lacing technique that my coworker who has over 30 years of shoe fitting experience taught me. This shoe lacing technique works wonders for women with narrow heels who experience heel slippage. After you apply this technique I suggest that you walk and run around the house to test the shoes out. You can apply this lacing technique by following 3 simple steps:
1-Begin by lacing your shoes normally with a criss cross but leave the top two eyelets of the shoes unlaced: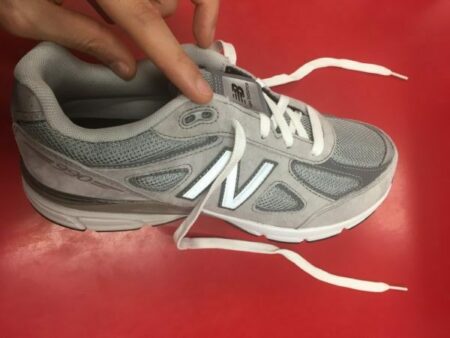 2-Go through the top hole first:
3-Go through the holes you left open: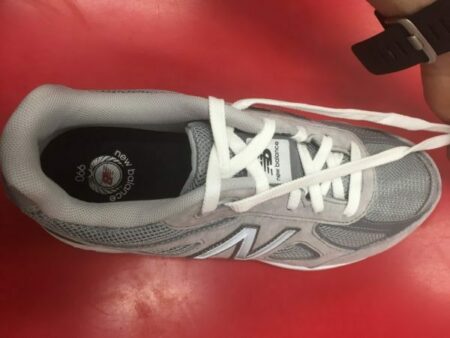 Hack #2: Tongue Pads for Women with Narrow Heels
If you are still experiencing heel slippage after trying the shoe hack #1there is another hack we can try. Have you ever heard of tongue pads? A tongue pad is an adhesive backed pad that fits below the tongue of the shoes. The purpose of trying a tongue pad is that it will push your heels back, securing them against the back part of the shoes, preventing heel slippage.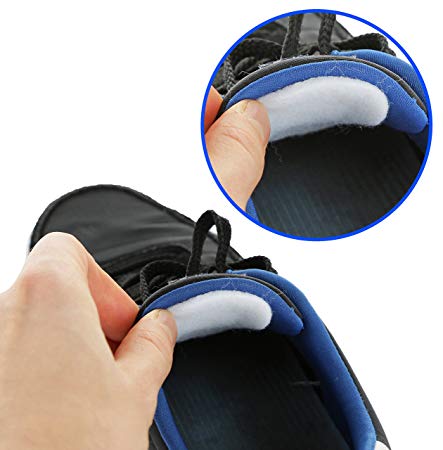 If for some reason you feel like the tongue pads make your feet uncomfortable you can easily remove them from the shoes.
I explain in more detail how to fit tongue pads inside your shoes and where to get them for the best price in a different article I wrote called:
Which is the Best Tongue Pad for Shoes? – STOP Heel Slippage!
My Final Piece of Advice – Preventing Heel Slippage
I have noticed how several women take off their shoes without untying them. We are all guilty of doing this, but if you have narrow heels and you just bought a new pair of shoes with narrow heels I strongly suggest that you always untie your shoes before taking them off.
I mention this because every time you remove your shoes before undoing the laces you are stretching the heel area of the shoe. After a month or so of doing this you will start experiencing heel slippage, so take good care of your new shoes!
The shoes below used to have a narrower heel counter but got stretched out around the heel area from not taking them off properly.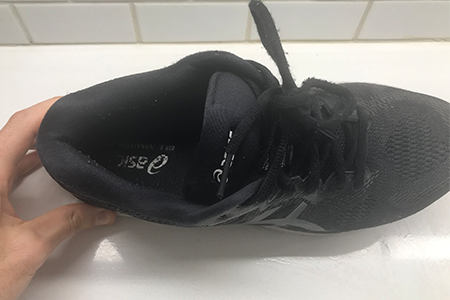 Do not hesitate to contact me if you have any questions about the shoes I recommended or need further clarification about my shoe fitting hacks. You can also reach out if you are having a hard time finding a different type of shoe to fit your narrow heels: comfortablewomenshoes@gmail.com
Let us know in the comment section below if you found a shoe that has worked well for your narrow heels.