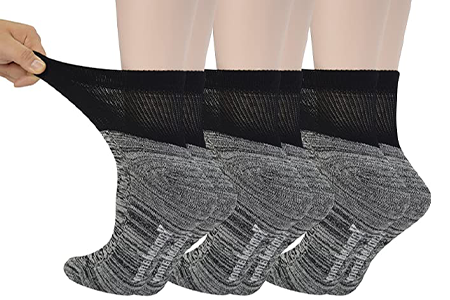 Editor's Note: This post has been completely revamped and updated for accuracy on May 2022 and reflects an up-to-date selection of the best socks for women with extra wide feet.
Do you feel like no matter what type of socks you buy they always end up cramping your toes? Have you noticed sock marks around your legs after taking them off? Fortunately, certain socks are specifically designed for women with wide feet, ankles, and calves.
Socks that are not wide enough for your feet will make your toes overlap and rub against one other, which can lead to foot issues such as blisters.
If you have wide or extra wide feet and need to wear wider shoes you will likely need wider socks as well. Some women need wider socks because they have medically related conditions, such as diabetes. Other women need wider socks because they went through a foot surgery. Whatever your reason might be for needing a wider pair of socks, I will show you a selection of the best socks for women with extra wide feet.
Don't Buy Bigger Socks!
I have noticed how women tend to buy larger socks to relieve some of the pressure on their toes. However, this often leaves them with socks that might not be as constricting but will be too long. The extra fabric of the socks will bunch below the feet and around the toes, leading to discomfort.
What Makes the Socks I Recommend Effective for Extra Wide Feet?
☑️ The socks provide a non-binding loose fitting stay-up top and large wide calf won't restrict circulation. Wide stretched top won't easily make marks on your leg and the socks will not fall, they will remain secure during your walk, run or workouts.
☑️ The socks come with a seamless toe which eliminates bulky toe seam, reduce the risk of infection, foot pressure, and blisters.
☑️ The socks will allow your feet to breathe as they come with an engineered knit-in mesh on top that provides breathability and moisture management.
Are you tired of spending money on different brands of socks? Have you looked everywhere for comfortable socks, yet do not pinch your toes or ankles or, in the case of some diabetic socks–slide down when wearing them?
Let me show you a selection of socks that are seamless, breathable, comfortable and stay in place! Disclosure: Keep in mind that we may receive commissions when you click our links and make purchases.
Best Socks for Women with Extra Wide Feet ⭐⭐⭐⭐⭐
These socks are ideal for women with wide or extra wide feet and women who have a medical condition such as diabetes, edema, or any other condition where the feet, ankles, or calves are wide or swollen.
Several women claimed that after they tried these socks it was the first time that their swollen feet didn't get smushed in socks! Most of these socks are made with a soft bamboo fiber, which unlike other fabrics, bamboo socks are comfortable in all different types of temperatures, keeps your feet warm during winter and cool during summer.
The socks I recommend can fit women that wear between a shoe size 6 to a shoe size 10. If your shoe size doesn't fall into this category don't order the socks as they will be either too short or too long. You can send me an email and I will provide you with specific sock recommendations: comfortablewomenshoes@gmail.com 
Now let's make sure that you order the correct socks size. Socks that are too short can constrict toe movement, while shoes that are too long might end up bunching up below the feet and causing discomfort. Under the sock label, always refer to where it says "fits shoe size" instead of "fits sock size".
Take a look at the example below for better visualization purposes: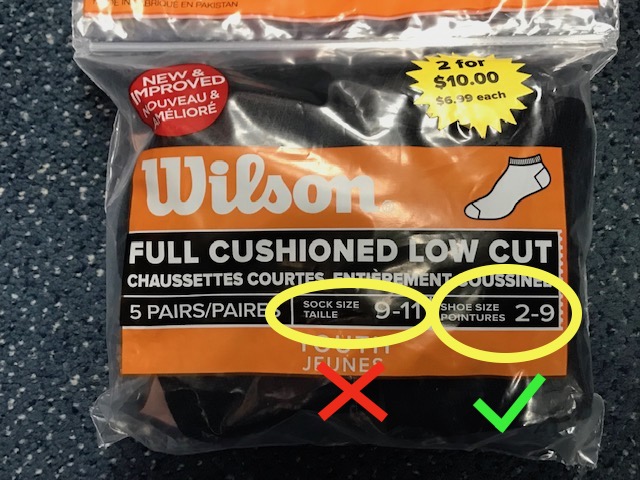 Socks play a very important role in keeping your feet comfortable and healthy as they mainly act as a barrier between your feet and the shoes. Socks prevent infections and the buildup of bacteria inside the shoes. So, something so simple as wearing socks can prevent all sorts of painful or uncomfortable foot issues!
I am going to leave you with a different article I wrote where I describe the best shoes for women with extra wide feet:
Best Extra Wide Dress Shoes for Women — Stylish, Comfortable, Extra Deep, and Available in Extra Wide Widths (XW)!
Have you found a specific sock style that has worked well for your extra wide feet? Share your findings below so other women can benefit from your experiences.