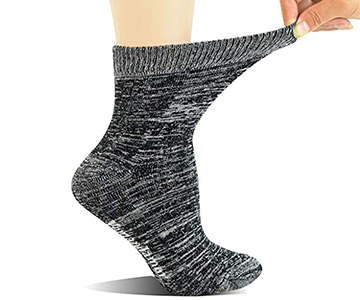 Editor's Note: This post has been completely revamped and updated for accuracy on May 2022 and reflects an up-to-date selection of the best women's winter socks for wide feet.
Are you looking for a pair of winter socks for your extra wide feet? During the frosty winter season, it's important to wear a pair of warm and breathable socks to keep your feet comfortable and healthy! You can agree with me that it would not be good to go out in below-freezing weather in a thin summer jacket, and the same applies to your feet!
Socks that are not wide enough for your feet will make your toes overlap and rub against each other, which can lead to different foot issues.
The importance of wearing the right type of socks in freezing weather cannot be understated. Socks play a key role in keeping your feet healthy, since they act as a barrier between your feet and the shoes. Also, socks prevent the formation and the build-up of bacteria inside the shoes.
I have been working for a specialized shoe store for the last 10 years. We specialize in women with foot and leg problems, but we provide regular shoe fittings as well. Additionally, I have fitted thousands of shoes and socks, and I am familiar with which sock brands and which sock styles are better than others and also which are available in different widths.
Keep in mind that it doesn't matter how wide your feet are, there is at least one particular winter sock style out there that will fit the shape of your wide or extra wide feet perfectly and I will help you find it!
In addition, wearing a waterproof and insulated winter boot is the first step to combat cold feet, but if you are not wearing the correct type of socks and in the right size you will end up creating all sorts of issues to your feet. I will help you find winter socks that are comfortable, durable, and affordable.
One of the most common misconceptions is to assume that thicker socks automatically translate into warmer socks for winter. Let me explain – Thicker socks don't always translate into warmer socks. As a matter of fact, thicker socks might lead to your feet sweating excessively inside the shoes and making your feet damp. Thick socks can also cut off circulation to the toes since they tend to put more pressure on the foot.
In this article, I will provide you with a selection of the best women's socks for wide feet! The socks you will see below range from crew to over the calf in height to keep the cold bitter air and snow out. I will also share the secret of which sock materials you need to look for when purchasing your winter socks.
I have tested these socks in women with extra wide feet and they said that they loved the fact that the socks don't cramp their toes together.
Before I show you a selection of the best winter socks for women with wide or extra wide feet, let's take a look at what are the best sock materials for the winter season.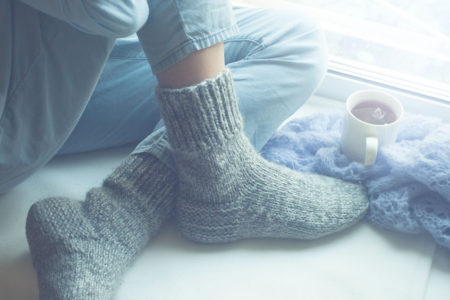 The Best Sock Material for Winter Socks
We need to find socks that will keep your feet warm, but they need to be breathable as well.
The type of material that you want to start getting familiar with is Merino wool. You can rest assured that if you wear a pair of socks made of Merino wool, you will keep your feet warm and comfortable during the winter season. You won't have to worry about your feet getting cold or sweating too much inside the shoes.
Moreover, this is the best material for keeping your feet warm and dry, and the higher percentage of wool that is contained in the sock means a higher level of thermal protection. So, these socks will keep your feet comfortable and warm all the time!
Now…
Can we find a pair of winter socks for women that provide this type of material and that will also fit  the shape of your wide or extra wide feet?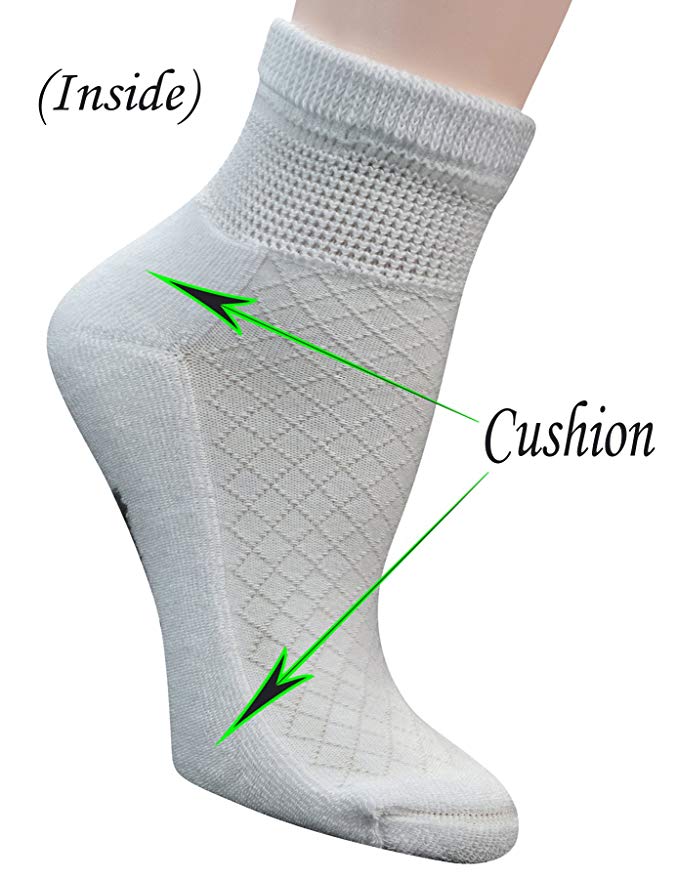 Finding Winter Socks for Wide Feet!
The best type of winter socks are made from high-quality materials that come with thermal properties and can also conform to the shape of your feet ( in this case wide or extra wide feet).
I don't recommend wearing cotton socks during the winter season since it has the real potential to make your feet colder by making them wet. You may be wondering why cotton socks are absolutely not recommendable choices for winter weather or women with wide feet.
This is because cotton socks have little insulation value and because they hold moisture. Another downside is that once a cotton sock is wet, it loses all insulation value. To top it off, a wet cotton sock then begins to coat your foot with a nice film of perspiration.
The socks need to keep moisture away from your skin since this will prevent any painful blisters or nasty odors. Also, finding a sock that is seamless and doesn't feel too tight will prevent your toes from rubbing against each other.
Socks are available in different lengths: ankle, calf length, and up to the knee. I recommend ankle and calf length socks for everyday shoes and knee-length socks for wearing winter boots.
Now that you know which are the best materials for winter socks, you are ready to take a look at the best winter socks for women with wide or extra wide feet.
The Best Winter Socks for Women with Wide Feet ⭐⭐⭐⭐⭐
What I like about these sock styles:
Available for wide and extra wide feet
Premium Merino wool
Unisex
Thick and fluffy
Warm and comfortable
What I don't like about these sock styles:
Machine wash is acceptable, but hand wash is recommended
Do you happen to have a child with wide feet that needs a pair of socks? I wrote an article where I describe the best socks for kids with wide feet and you can find it here:
Finding the Correct Sock Size – Get it Right!
I always underscore the importance of wearing the correct shoe and sock size.  You won't get all the benefits that socks have to offer if you don't wear the correct size.
A sock that is too small will end up cramping your toes and making them rub against each other, and a sock that is too long will end up bunching up and making you feel uncomfortable.
The same applies to shoes, they can't be too short, too long, too narrow or too wide, they must fit just right to prevent all sort of foot issues.
In addition, when trying to find the correct sock size, shoes and socks go hand to hand. First off you need to find out which is your correct shoe size, so you can find the right pair of socks. 
When trying to find out your correct sock size, do not get confused by looking at the "sock size" or by assumptions.  Always look under "shoe size" in the sock tags. Take a look at the picture below for clarification: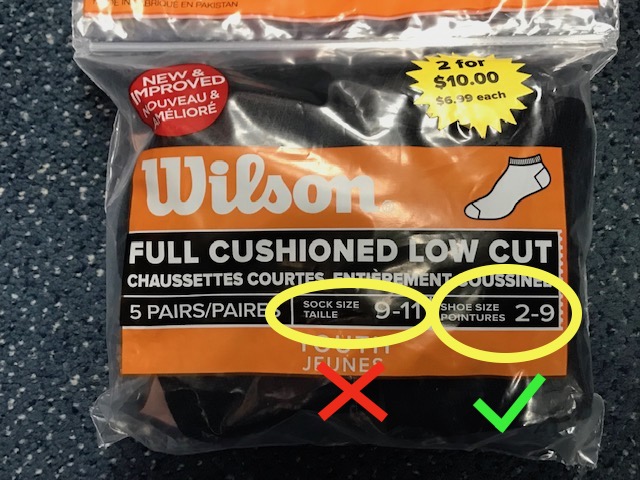 Have you tried any of the sock styles that I recommend in this article? Can you recommend a particular sock style that has worked well for your wide feet? Please share your thoughts and experiences below so other women can benefit from them.