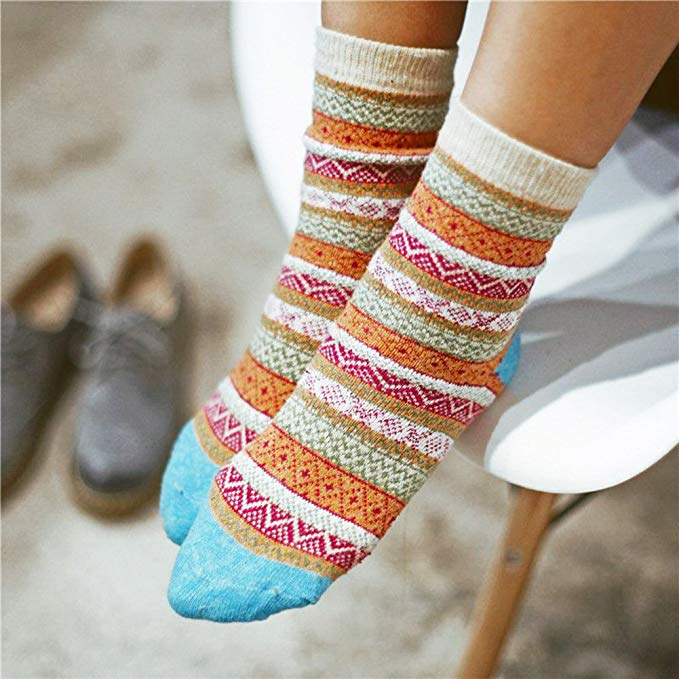 Editor's Note: This post has been completely revamped and updated for accuracy on May 2022 and reflects an up-to-date selection of the best winter socks for women.
Have you been looking for a pair of warm and breathable socks for the winter season? It's always important to have at least a pair of warm, durable, and breathable socks to keep your feet healthy during the cold season.
I have been working for a specialized shoe store for the last 10 years. We specialize in women with foot and leg problems, but we provide regular shoe fittings as well. Additionally, I have fitted thousands of shoes and socks, and I am familiar with which sock brands and which sock styles are better than others.
Also, for the last couple of years, I have been helping many women find their shoes and socks online.
Most women want their socks to be affordable, durable, and comfortable for their feet.
The most common misconception of socks is to assume that thicker socks automatically translate into warmer socks for the winter. Thicker socks don't always translate into warmer socks. In fact, thicker socks might lead to your feet sweating excessively inside the shoes and making your feet damp. Thick socks can also cut off circulation to the toes since they tend to put more pressure on the foot.
Moreover, socks play an important role in keeping your feet healthy, since they act as a barrier between your feet and the shoes. They prevent the formation and the build‑up of bacteria inside the shoes.
You will be happy to know that in this article I will show you which sock materials you need to look for when buying winter socks.
In this article, I will show you a selection of the best winter socks for women! The socks I will describe below will range from crew to over the calf in height to keep the cold bitter air and snow out.
Merino wool is the type of material that you want to start getting familiar. If you buy a pair of socks made of Merino wool, you will keep your feet warm and comfortable during the winter season. In other words, you won't have to worry about your feet getting cold or sweating so much inside the shoes.
Wool, especially super‑soft merino wool, offers several unique benefits over cotton that make it the fabric ideal for the winter.
In addition, wool keeps its insulating properties while wet, which is perfect for sweaty feet. Also, wool dries much more quickly than cotton or other synthetics. Furthermore, due to their physical nature, wool fibers naturally have anti‑bacterial properties and are, therefore, odor resistant.
Additionally, these socks will keep your feet comfortable and warm all day. However, I always explain to women they won't get all the benefits that the socks have to offer if they don't wear the correct sock size. Socks must fit just right!
A sock that is too small will end up cramping your toes and making them rub against each other, and a sock that is too long will end up bunching up and making you feel uncomfortable.
This same concept applies to shoes, they can't be too short, too long, too narrow or too wide, they must fit properly, also to avoid all sorts of foot issues.
The socks I will refer to in this article are great at keeping your feet cozy and warm, helping with odors, and keeping your feet dry by moving moisture away at a vapor level.
Choosing the Right Winter Socks – Get it Right!
The following are some of the considerations you should keep in mind when choosing your winter socks:
A good winter sock is made from high‑quality materials that come with thermal properties and can also adjust to the shape of your feet.
The socks need to keep excessive moisture away from your skin, since this will prevent painful blisters or nasty odors.
The issue is that there is a wide variety of options of socks to choose from, and it can get quite confusing to decide which style will be better for your feet.
Socks are also available in different lengths: ankle, calf length, and up to the knee. I recommend ankle and calf length socks for every day shoes and knee‑length socks for wearing winter boots.
When trying to find the correct sock size, socks and shoes go hand to hand. Nonetheless, to find the right pair of socks you must know your correct shoe size.
Do not get confused by looking at the "sock size" or "eye sight guidelines." Always look under "shoe size" in the sock tags. Disclosure: Keep in mind that we may receive commissions when you click our links and make purchases.
The Best Winter Socks ⭐⭐⭐⭐⭐
With all the above information in mind, let's take a look at the best winter socks for women:
The following are the features that I like about these sock styles:
Thick and fluffy
Very comfortable
Very good value for money
Premium Merino wool
Can be worn all year round
Good level of warmth
What I don't like about these sock styles:
Machine wash is acceptable, but hand wash is recommended.
Do you happen to have a child that needs a pair of winter socks? I wrote an article where I describe the best winter socks for children and you can find it here:
It's important to note that these socks are premium quality wool knitted, touch soft, breathe freely, absorb sweat, odor resistant, keep warm and one of the best features is that they will fit spring, summer, autumn, and winter season as well.
Now that you know which are the best winter socks for women, you are ready to make the most informative decision!
Feedback from Women About These Socks
It's always helpful to know about the experiences of other people, so let's take a look at some of the feedback given by women.
"COMFY AND WARM SOCKS FOR THE CHILLY WEATHER"
I always struggle with cold toes and "stinky", sweaty feet. These socks seem to have hit the sweet‑spot of not‑itching, and not causing sweaty‑feet, while still being warm enough.
I am thrilled because it is really hard to find socks that work well for me at an affordable price, so I am happy to have found these.
The only drawback in my opinion is that they are only ankle‑height and I would prefer that they were taller. That is the reason for the 4‑star rating instead of 5.
"EXCELLENT, COZY SOCKS FOR THE WINTER"
I have found out that these socks are very warm, extremely soft and they come in a wide variety of colors and prints. It is also a plus, that they are easy to wash.
These socks are affordable and are the perfect combination of cozy and comfy. Even though some of these socks are thicker, they are still soft.
If you have tried any of these socks, give us your feedback! Do you recommend a particular sock style that has worked well for you? Please share your thoughts and experiences below so other women can benefit from them.