Do you feel like all the dress shoes that you try on are too narrow and you always struggle to find a pair of dress shoes for your wide feet? Have you been trying to find a pair of wide dress shoes?
I know exactly which dress shoes will fit a woman with wide feet since I have fitted them before, and there are only certain dress shoe styles that will work for your feet. The dress shoes I will describe in this article will fit a woman with a high instep and wide feet, and they are reasonably priced.
Wearing dress shoes shouldn't be painful since for many women, dress shoes are a must in their everyday outfits. Used as part of a work or cocktail attire, as well for parties and other special events. You definitely don't want to be worrying about your shoes feeling too tight and uncomfortable.
I empathize with women who struggle to find a comfortable pair of dress shoes for their wide or extra wide feet. I know it is not an easy task, especially because there are not so many shoe companies that make good and supportive dress shoes in wide widths.
I have been working for a premier specialty shoe store for over 10 years now, and I have fitted all types of women's feet, including narrow, medium, wide and extra wide feet. I hear complaints all the time about how hard it has been to find shoes for women with wide and extra wide feet.
The good news is that I know exactly which dress shoe styles fit wider than others, and I will help you find them.
Finding the perfect pair of wide or extra wide dress shoes takes more than just choosing a dress shoe in a wide (W), or extra wide (XW) width. The dress shoes must provide extra depth and rounder toe-boxes.
Dress shoes that provide extra depth allow your feet to fit deeply inside the shoes, preventing the top part of your feet (the instep) from rubbing against the top of the shoes. Dress shoes that come with round toe-boxes help prevent your toes from rubbing against each other or the side of the shoes.
The issue is that shoes don't come labeled as "extra deep", or with "rounder toe-boxes". The only way to know if a pair of dress shoes provide those features is by having fitted them before.
Believe me when I tell you that I can help you save you a lot of time and money, since I know which shoe styles are better than others in terms of fit, materials, and support. There are a few shoe brands with shoe styles that have special comfort features built right into them.
In this article, I will show you a selection of the best wide dress shoes for women, but first I want to show you what features the dress shoes must provide and other key considerations you need to keep in mind.
Wide Dress Shoes for Women – 2 Key Features!
As mentioned earlier, the two most important features that the dress shoes must provide are:
☑️ Extra Depth:
☑️ Round Toe-Boxes: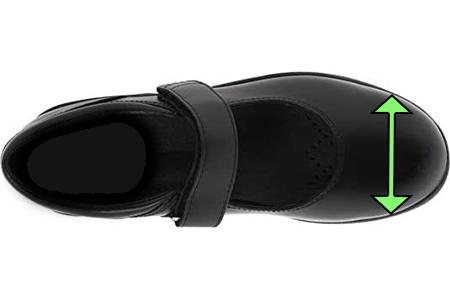 Let's also take a look at other 3 additional key features/characteristics that the dress shoes I recommend provide:
Support: This feature will allow you to feel comfortable and minimize the impact that your feet receive every time it comes in contact with the ground.
Lightweight and Flexible: The shoes need to be supportive, but they must be lightweight and flexible at the same time to prevent your feet and legs from easily getting tired.
Durable: If you find a good shoe, it is important that it lasts and that you get benefited from all of its good long-lasting materials.
One thing to keep in mind is that if the shoes are not fitted properly, you will not get any of the benefits that the shoes have to offer. What's even worse, you will end up creating issues with your feet such as blisters, calluses, or corns.
I always recommend women to go to the local shoe store that they trust to be properly fitted for shoes, but if you don't have a local shoe store in your area and you must purchase your shoes online, take a look at an article I wrote where I describe the simplest, yet most effective way to figure out your foot size from home:
How to Measure your Foot Size – The Most Simple and Effective Way! 
If comfortable dress shoes have eluded you because you can't find the right size or style, you're not alone. You need to give your feet the right amount of space to move and feel comfortable, plus by doing so you will wear those dress shoes with more confidence.
However, it doesn't matter that you buy the "ideal" shoe for you, if you don't buy in the correct shoe size you will miss out on the features and benefits that the shoe has to offer. You don't have to adapt your feet to fit into the shoe, instead, the shoe must fit your feet perfectly!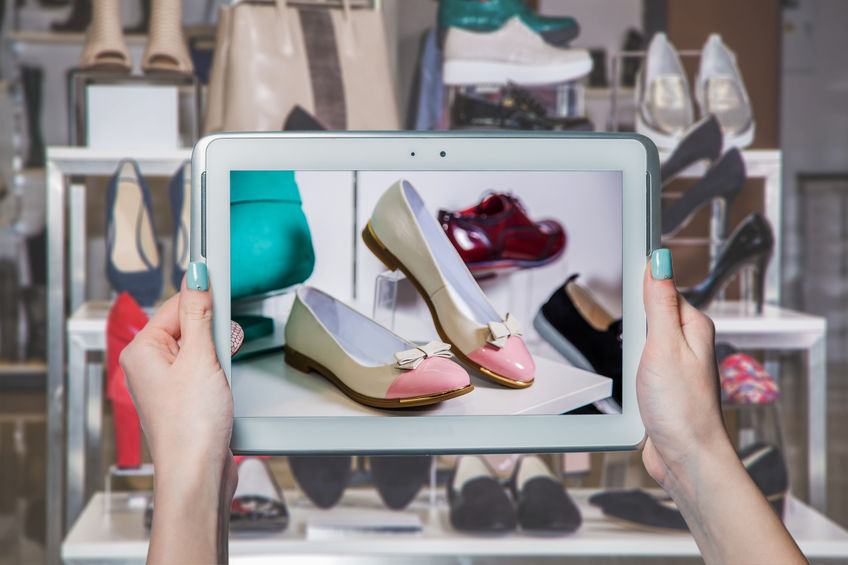 Riveting Facts About Women with Wide Feet
Below are some riveting facts about women with wide feet:
Wearing shoes that are too narrow will put you at risk for developing serious foot deformities such as blisters, corns, and bunions, just to name a few.
Most women just buy bigger shoes in length without acknowledging that the width remains the same.
Shoe width is the most important part of fitting a shoe.
Dressy and comfortable wide shoes do exist.
Wide and extra wide feet in women are common.
Who said that comfortable shoes can't be stylish? You can see a wide selection of fashionable shoes infused with true comfort technology. These dress shoes below feature high quality leathers, with cushioned, shock-absorbing soles so you can have comfort while also looking great!
All the shoes that I recommend are shoe styles that I have fitted before, since that's the only way for me to tell the quality of the shoes and how they fit.
The Best Wide Dress Shoes for Women ⭐⭐⭐⭐⭐
Below you can find a selection of the best wide dress shoes for women that are available in wide (W) and extra wide (XW) widths. Disclosure: Keep in mind that we may receive commissions when you click our links and make purchases.
Fits Wide – Extra Wide

Fits Wide – Extra Wide

Fits Wide – Extra Wide

Fits Wide – Extra Wide

To prevent your toes from rubbing against the front or side part of the shoes, I highly recommend that you order these sneakers half a size larger than the size that your feet measure. This translates to 0.3 inches or 0.6 centimeters of space between your longest toe and the end of the shoes.
Do you have a child that needs a pair of wide dress shoes? I wrote an article where I describe the best dress shoes for toddlers with wide feet. Please go to the link below.
Now that you know which are the best wide dress shoes, you are ready to make the most informed decision. You can stop pinching your toes and start walking around comfortably in them.
I want you to remember one thing: It doesn't matter how narrow or wide your feet are, there is always at least one particular shoe style out there that will fit the shape of your feet perfectly, and I will  help you find them: comfortablewomenshoes@gmail.com 
Have you found a good pair of dress shoes for your wide feet? Is there any particular style that has worked better for you? Please share your thoughts and experiences below so we can all benefit from your experiences!