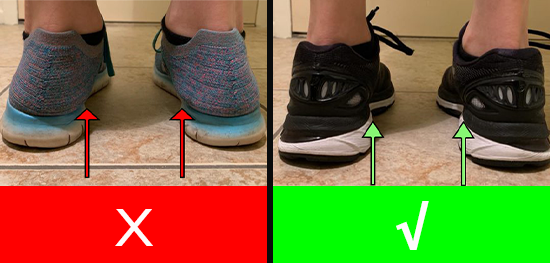 Are you flat footed and been experiencing foot or leg pain? In addition, have you been diagnosed with overpronation?
Overpronation is when the arches of the feet roll inwards or downwards when walking, and it is also commonly known and referred as flat feet.
When women overpronate, they put pressure in parts of their bodies where they are not supposed to, and this leads to foot and leg pain, as well as other serious issues in the future such as lower back problems.
The good news is that there are certain shoe styles that will align your feet and help you walk and run straighter.
I am an expert when it comes to fitting women's shoes since I have been working for a specialized shoe store for the last 10 years. At the shoe store that I work for we specialize in women with foot and leg problems, but we provide regular shoe fittings as well. Over the years I became familiar with the best women's shoes for overpronation.
If you are overpronating you must wear a pair of good supportive shoes. By good supportive shoes I mean shoes that provide good arch as well as ankle support.
For example, most women that are flat footed tend to overpronate, since when they are weight bearing, their feet tend to collapse and turn inwards due to not having an arch to prevent the feet from collapsing.
Let's take a look at a picture of a woman wit flat feet standing barefoot. Does it look familiar?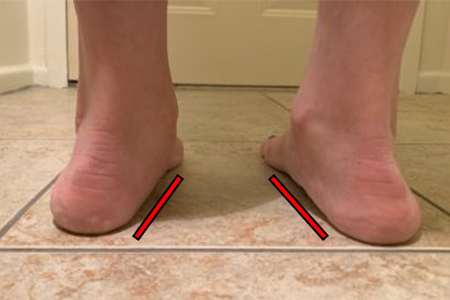 Now let's take a look at a picture of a woman with flat feet wearing two different pair of shoes. The first picture shows a woman wearing a pair of unsupportive shoes made by Nike.Do you notice how her feet are still pronating and turning inwards?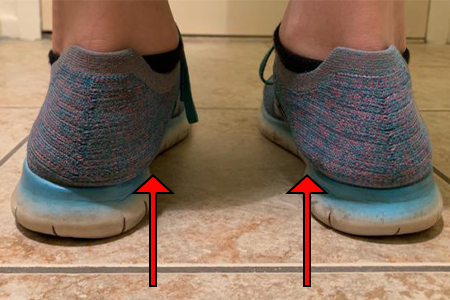 A shoe with sufficient arch support will prevent this woman's feet from collapsing. Let me prove it to you! Let's take a look at a picture of the same woman wearing a pair of supportive shoes made by Asics.  Do you notice how her feet look are a lot straighter?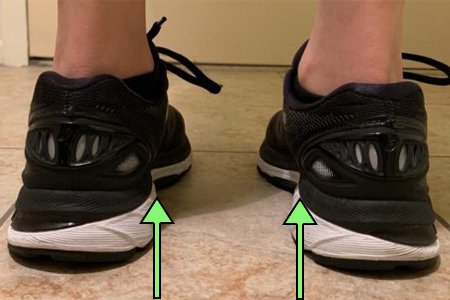 Something so simple such as wearing a pair of shoes with arch support will have a tremendous impact in the way you walk. However you also need to keep in mind that overpronation can come from the ankles too. So, if your ankles are turning inwards or outwards it will result on your feet not being able to be straight.
In order to attack this condition, we need to find a pair of shoes with a firm heel counter. Do you know what the heel counter of the is? It's the back part of the shoes that provides ankle support. Below is a picture for clarification: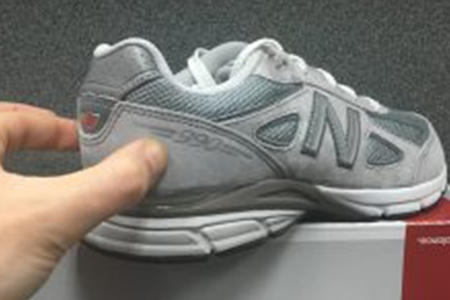 Every time you buy a new pair of shoes, you need to press on the heel counter and make sure it feels firm. Below is a an example of a heel counter that is too soft:
Overpronation/flat feet is more common than you imagine. Of course, you most likely had already heard about flat feet, including in several commercials in the TV or in newspapers and online advertisements.
If you indeed have been diagnosed with overpronation, the first step is to check the shoes that you are wearing. Something so simple such as wearing a good supportive shoe might be all that you need.
You should know that we all have a certain degree of pronation, but when it's visible and excessive that's when we need to take care of the condition.
In this article I will show you a selection of the best women's shoes for overpronation. I will also show you which orthotic has been proven to be most effective one in case you need a pair of orthotics to be fitted inside your shoes for extra support.
I want to first show you which are the features that the shoes must provide and how you can be 100% sure that you are wearing the correct shoe size.
Features of Shoes for Overpronation – Keep your Feet Healthy!
Quite often, when women are looking for supportive shoes, they start by reading the description of the shoes and are confused by the terminology and don't know which shoes to choose. Some of the descriptions will say things like: "REVlite foam midsole for added support", "Midfoot lock down for support", EVA foam midsole for added cushion" or "softlining with Abzorb cushioned footbed" etc.
To your advantage, I am here to make things easy for you and show you a selection of the best women shoes for overpronation that I have fitted before. I know the amount of support and quality that these shoes provide since I have fitted them before and with different women's feet.
I always emphasize to women that there are 2 key features that their shoes must provide in order to treat overpronation:
☑️ Shock Absorption/Arch Support: This feature helps reduce the impact that your feet take every time they come in contact with the ground, and relieve the stress on your feet and legs. In addition, shoes that provide good arch support will help prevent your feet from collapsing and turning inwards.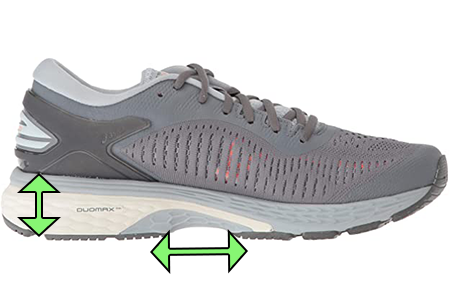 ☑️ Ankle support: This feature help align your ankles and support them: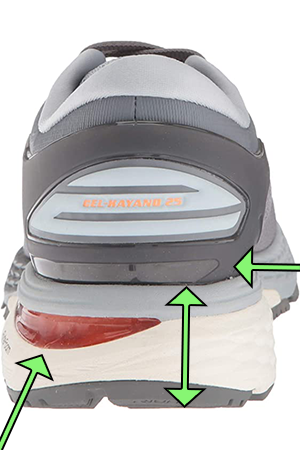 Can we find a pair for shoes that provides all of these features?
Yes, we can! I have fitted them before and I will show them to you shortly.Please keep in mind that more expensive shoes don't automatically translate into better shoes. You don't have to pay a ton of money to buy a good pair of supportive and high-quality shoes.
The Complications of Overpronation – Learn Them All!
You should be aware that overpronation leads to strain on the big and second toe and impacts the stability of the foot. The excessive rotation of the foot can lead to more rotation of the tibia in the lower leg, making yourself more prone to knee pain and shin splints (also referred to as medial tibial stress syndrome).
Due to overpronation, there is also an elevated risk of injury and heel pain that may be the result of the stress on the ligaments and tendons of the foot.
Lastly, overpronation could lead to the following minor to severe foot issues:
Calluses
Foot rigidity
Ankle sprain and foot instability
Hammer toes and claw toes
Back and hip pain
Plantar Fasciitis
If you notice any of these symptoms, start by consulting a doctor or physical therapist. They will be able to lead you on to the next steps to take, which could be wearing good supportive shoes, be fitted for an orthotic, or both!
I only review shoes that I have fitted before, since that is the only way for me to tell the quality of the shoes and how they fit.
The Best Women's Shoes for Overpronation ⭐⭐⭐⭐⭐
These shoes are available in different widths such as narrow (N), medium (M), wide (W), and extra wide (XW), to make sure they will fit any type of feet and also allow room to fit an orthotic in you need to be fitted for one. Below you can find a selection of the best women's shoes for overpronation:
Fits Narrow – Medium

Fits Wide – Extra Wide

Fits Wide – Extra Wide

Fits Wide – Extra Wide

Fits Wide – Extra Wide

Fits Narrow – Medium

In order to prevent your toes from rubbing against the front or side part of the shoes, I highly recommend that you order these sneakers a half a size larger than the size that your feet measure. This translates to 0.3 inches or 0.6 centimeters of space between your longest toe and the end of the shoes.
Do you have a child that is dealing with overpronation? I actually wrote an article where I describe the best shoes for kids with overpronation. Please go to the link below.
Again, if after trying the shoes you feel like you need extra support, then you can consult your physical or occupational therapist and/or consider using an orthotic.
Orthotics for Women with Overpronation – When the Shoes are Not the Solution
You need to consider and keep in mind that in certain cases a pair of shoes will not be enough to correct your overpronation and that you might need extra support. In this case, your physical or occupational therapist might also recommend an orthotic to be fitted inside the shoes for extra support.
Orthotics are shoe inserts that are specifically designed to offer cushioning, support, stability, and relieve pressure in particular areas of the foot.
There is an orthotic that I have fitted before that is specifically designed to provide good arch and ankle support. It will also provide biomechanics alignment by preventing over pronation and correcting your ankles (making them straighter).
While I can't get into too much detail about which is the best orthotics for women with overpronation, I wrote an article on the best women's orthotics for overpronation, just click on the link below:
 The Best Women's Orthotics for Overpronation – Supportive, Comfortable, Durable, and Affordable!
What has been your experience dealing with overpronation or flat feet? Is there any particular shoe style that was worked for you or any tip you want to share? Kindly share your thoughts and comments in the section below so we can all benefit from them!