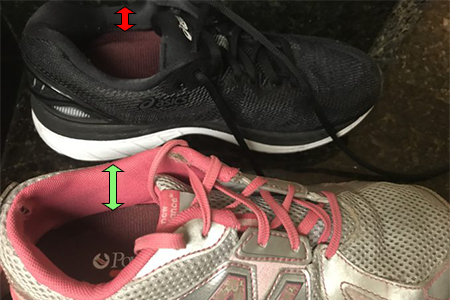 Have you been diagnosed with flat feet or overpronation? Has your physical or occupational therapist recommended that you wear supportive shoes with orthotics?
Did you know that orthotics can improve your posture by preventing your feet from collapsing and aligning your feet and legs, helping you walk and run straighter?
I have been working at a specialized shoe store for over 10 years where we evaluate women with foot conditions as well as "complicated" foot shapes. I have helped hundreds of different women find the correct pair of shoes to accommodate their orthotics, and I believe I can help you too.
It is very important to keep in mind that it doesn't matter how supportive the orthotics are, if the shoes that you are wearing don't provide the correct amount of support, you won't get any of the benefits that the orthotics have to offer.
What Makes the Shoes I Recommend Effective for Women Who Wear Orthotics?
The shoes I recommend provide 2 key features that are ideal for women who wear orthotics:
✅ Extra Depth: This feature is key as it allows the orthotics to fit deeply inside the shoes and prevents the top part of your feet (instep) from rubbing against the top part of the shoes. Shoes that provide extra depth are also great for orthotics as they won't give you the impression that your feet are coming out of the shoes. Let me show you the difference in depth between one of the shoes I recommend and a different style.
Do you notice how the orthotic is sitting a lot deeper in the New Balance shoe (grey and pink) compared to the Asics shoes (black)?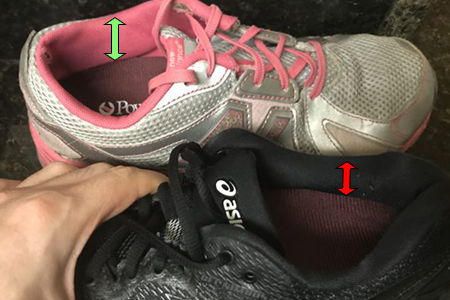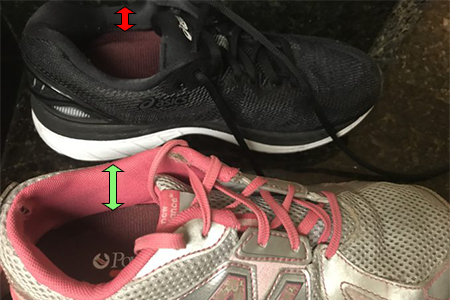 ✅ Substantial Outsole: Your shoes must provide a substantial outsole to hold the orthotic in place and support your feet when walking or running: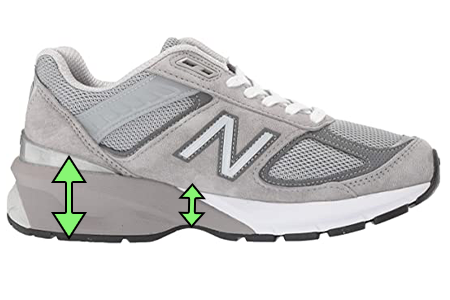 Before I show you a selection of the best shoes for orthotics I want to make sure that you know your exact foot size. If you are unsure of your foot shape I suggest that you take a look at a different article I wrote in which I help women determine their exact foot size from home:
How to Measure Your Foot Shoe Size – The Most Simple and Effective Way!
Best Women's Shoes for Orthotics – Before and After Images!
Take a look at the picture below of a woman who is flat-footed and is wearing shoes without orthotics. Notice how her feet are collapsing and turning inwards. Her current pair of shoes are Nike and they are too flimsy and unsupportive: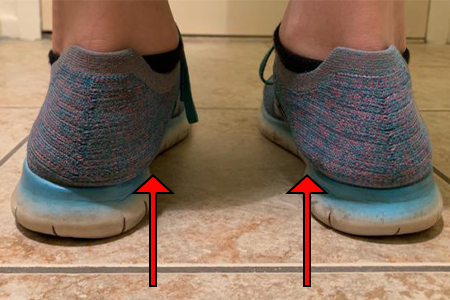 Now let's take a look at an image of the same woman wearing a pair of the supportive shoes I recommend. Do you notice how her feet are a lot straighter? The substantial outsole and firm heel counter of the shoes are preventing her feet from collapsing and turning inwards: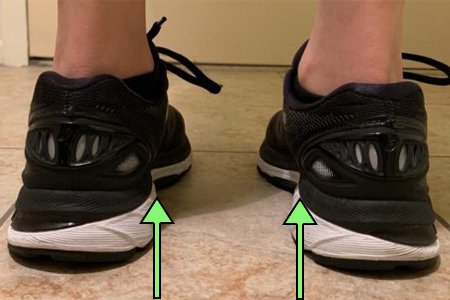 This example proves how the shoes and the orthotics need to both be supportive for you to get all the benefits from them. If you fit a good supportive orthotic in a pair of shoes that are too flimsy, you will continue overpronating (as we notice in the picture above). and putting pressure in areas of your body where you are not supposed to.
Now that you are aware what are the features a good supportive shoe must provide and how to make sure that you are wearing the correct shoe size, let's take a look at a selection of the best women's shoes for orthotics. All of the shoe styles described below come with a substantial outsole that provides arch support, a firm heel counter that provides ankle support, extra depth, and they are lightweight, flexible, and breathable.
The Best Women's Shoes for Orthotics ⭐⭐⭐⭐⭐
Below you can find a selection of the best women's shoes for orthotics. These shoes are available in different widths such as medium (M), wide (W), and extra wide (XW), so make sure that you order your foot width accordingly. Disclosure: Keep in mind that we may receive commissions when you click our links and make purchases.
Fits Narrow, Medium, Wide and Extra Wide Feet

Fits Medium, Wide, and Extra Wide Feet

Fits Medium, Wide, and Extra Wide Feet

Fits Medium, Wide, and Extra Wide Feet

Fits Medium, Wide, and Extra Wide Feet

Fits Medium, Wide, and Extra Wide Feet

What Shoe Size Should You Order?
To prevent your toes from rubbing against the front or side part of the shoes, I highly recommend that you order the shoes a whole size larger than the size that your feet measure. This translates to 3/8 of an inch or 1 centimeter of space between your longest toe and the end of the shoes.
Depending on the orthotic that you wear you might need to go a whole size longer (0.6 inches or 1 centimeter).
If you are unsure about what shoe size to order or you need help finding different types of shoes to wear with your orthotics don't hesitate to contact me and I will help you find them: comfortablewomenshoes@gmail.com 
The Most Important Features the Shoes I Recommend Provide
In addition to providing extra depth and substantial outsoles these are the other 3 important features that the shoes I recommended provide:
✅ Firm Heel Counter: The shoes come with a firm heel counter that helps provide ankle support and work with the orthotic in reducing the impact that your feet take every time they come in contact with the ground. A firm heel counter will also help straighten your ankles. As you can see, this is a very important feature since the heel counter of the shoe provides a key role in supporting and correcting your heels. Remember how when a woman is overpronating it can be from being flat-footed or from having rolled ankles, or both.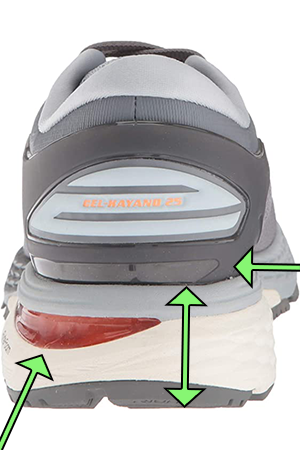 ✅Lightweight and Flexible: Although the shoes must be supportive, they must be lightweight and flexible at the same time, since this will help prevent your feet and legs from easily getting tired. Your shoes should always bend at the ball of the foot but no further. If you can bend your shoes like a spiral then the shoes are too flexible.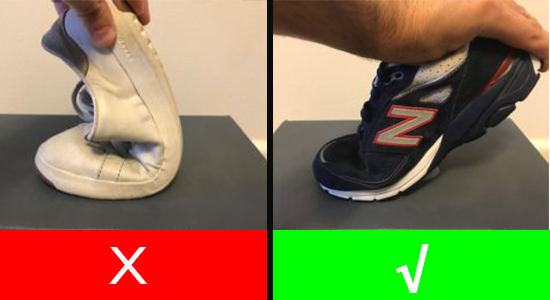 ✅ Breathable: This is an important feature since it's crucial to allow your feet to breathe to prevent the formation of bacteria inside the shoes.
Remember that if you find a shoe that provides all of these features you will be keeping your feet and legs healthy, and you will get the full benefits that the orthotics have to offer!
I will describe in this article the best women's shoes for orthotics so you can STOP your overpronation due to having flat feet or rolled ankles.
In order to get the full benefits that the orthotics have to offer, please make sure that you are always tying your shoelaces properly. This means that they need to be pulled tightly, since this will provide you with more support and stability, and prevent the orthotics from moving inside the shoes.
There is a specific shoe lacing technique I learned at the shoe store from my coworker who has over 30 years of shoe fitting experience. This shoe lacing technique works particularly well for women who wear orthotics, as it pushes your heels back, supporting and protecting them against the back of the shoes.
You can learn more about this shoe lacing technique in the article below:
How to Tie Shoes for Women Who Wear Orthotics — It Takes 3 Easy and Simple Steps!
If you happen to have a child that overpronates and also needs a good pair of supportive and deep shoes to fit his or her orthotics, you should take a look at an article I wrote where I describe the best kids' shoes for orthotic inserts:
Can I Fit Orthotics in my Dress Shoes or Sport Shoes?
Are you looking to fit your orthotics in a different pair of shoes such as your dress shoes or sports shoes?
When we are playing a particular sport, we are stressing our feet and legs at a whole different level, and that constant impact when we are running, jumping, or moving side to side can lead to foot and leg pain.
So far I have found only one cleat (soccer cleat) that is deep and available in wide widths to fit an orthotic and you can find it in an article I wrote called:
Wide Soccer Cleats For Women – They Do EXIST!
I will be posting which are the best basketball, baseball, and football cleats that work with orthotics shortly.
As far as dress shoe concerns, certain styles come with removable insoles and provide enough support to fit an orthotic. You can learn about the best dress shoes for women who wear orthotics in the article below:
Women Dress Shoes with Arch Support – Keep Your Feet Comfortable and Healthy!
So now that you know which are the best women's shoes for orthotics, you are ready to make a better and more informed decision.
Have you tried any of these shoe styles before? Have they worked well with your orthotic? Please share your thoughts and experiences below so other women can benefit from them as well.