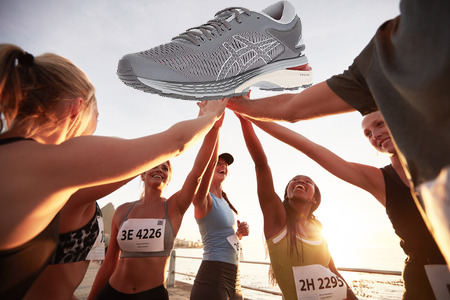 Editor's Note: This post has been completely revamped and updated for accuracy on May 2022 and reflects up-to-date information on what is the best women running shoe?
Have you been looking for a pair of good running shoes? It doesn't matter if you are a frequent or occasional runner. If you are running, then you need a pair of supportive, sturdy, lightweight, and breathable pair of running shoes.
Just like walking, running is also highly beneficial for your physical and mental health. It is also highly recommended when trying to lose weight. However, running is considered a high impact activity and if you don't wear the correct type of running shoes, then your feet and legs will take a toll and you can experience foot, leg, and back pain.
There are a lot of different running shoe styles available for women, but there is a particular one made by the shoe company named Asics that has proven to be the best one in terms of support, comfort, and durability. I have found this particular shoe style to be the most effective one when it comes to running since it provides all of the key features that a running shoe must provide such as shock absorption, good arch and ankle support, and it's lightweight and flexible at the same time.
I know which is the best running shoe style for women since I have worked for a shoe store for the last 10 years that specializes in helping people with foot and leg problems. I have helped several women with "complicated" foot shapes as well as foot conditions find the correct type of shoes, and I believe I can help you too. Over the years I became familiar with the best running shoes for women.
Now, the difference between walking and running is the intensity. Running is much faster, uses more kilojoules and demands more effort from the heart, lungs and muscles than walking. For sure, running requires a higher level of overall fitness than walking.
Shoes that are specifically made for running are purposely engineered to provide you with the right amount of support, cushioning, and motion control that you need to run around all day, while preventing foot and leg injuries. Certainly, there are certain running shoes for women that provide more support than others, and it is important for you to know which ones they are.
If you are looking for the best running shoes, then you need to look for a shoe that comes with a substantial outsole to provide shock absorption and minimize the impact that your feet take every time it becomes in contact with the ground. A running shoe with a firm heel counter will provide good ankle support and prevent ankle injuries. I will describe these features in more detail shortly.
In this post, I will show you what is the best women running shoe that I have fitted before, but let's first make sure that you know what your exact foot size is and what features this shoe style will provide to your feet.
Features of the Best Running Shoes for Women – Get Them all!
Running shoes are now packed with a lot of features with terminology that most women don't understand. I am going to make things simple for you and provide you with the most important features that this shoe style will provide, and describe them in the most simple way possible.
☑️ Shock Absorption: This feature is especially important since it is key that your running shoes can attenuate the impact your body receives every time your feet come in contact with the ground.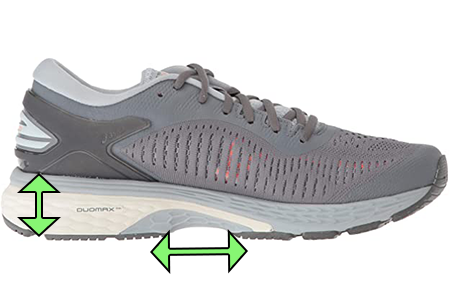 ☑️ Firm Heel Counter: This is the back part of the shoe that provides lateral, supports and keeps your ankles healthy.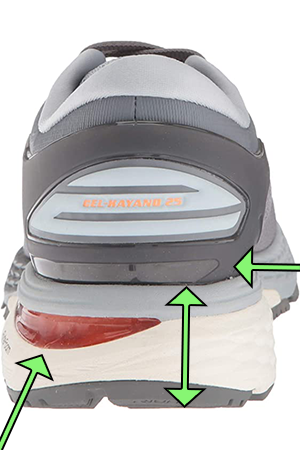 ☑️ Lightweight and Flexible: These features help prevent your feet from feeling tired when wearing and running for longer periods of time.
☑️ Good traction: This will prevent you from slipping and falling especially when running in the rain or wet surfaces.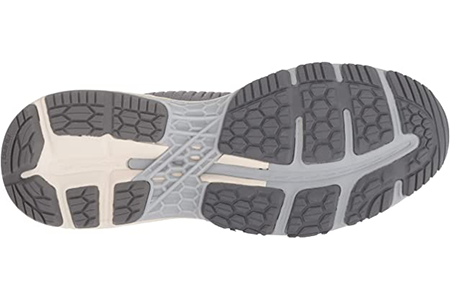 ☑️ Breathable: The shoes must be breathable to prevent the buildup of bacteria inside the shoe.
☑️ Removable Insoles: This will allow you to be able to take it out if you are trying to fit an orthotic inside the shoe.
Bear in mind that getting a good, supportive running shoe for you is not the only thing that will keep your feet and legs healthy, you must also make sure that you are wearing the correct shoe size. I am always emphasizing to women how it doesn't matter how supportive the shoes are, if they are not the right shoe size, you won't benefit from any of the features the shoe provides.
I wrote an article where I describe the simplest, yet most effective way to figure out your exact foot size from home. Go to the link below:
How To Measure Your Foot Shoe Size – The Most Simple And Effective Way!
I also wanted to flag that when it comes to women's running shoes, a higher priced shoe doesn't automatically translate into a better shoe for your feet. You can find reasonably priced shoes that provide the same features as a shoe that is higher price. Fit remains our top priority.
The Best Women Running Shoe
Asics Gel-Kayano ⭐⭐⭐⭐⭐
Let me tell you that Asics is well known for its varied and excellent selection of running shoes.
I am a runner myself and since I have tried Asics I have never looked back. There are different great styles in Asics, and I will show you which one is the best one for women who are serious about running.
One of the best and most popular styles from Asics is the Gel Kayano, which is available for women and men. I have tried this shoe style myself and recommend it because I know how supportive it is and how well it fits. I can guarantee you that the quality and the support are both excellent.
Below you can find the best running shoe for women. This shoe can fit women with narrow (N) or medium (M) feet. Disclosure: Keep in mind that we may receive commissions when you click our links and make purchases.
Available in narrow, medium, and wide widths
Engineered mesh upper improves breathability
Redesigned external heel counter helps keep the foot stable and provide a more comfortable stride
Rearfoot and Forefoot GEL Technology Cushioning System
This shoe style will fit a woman that has narrow, medium, or wide feet (as long as you choose the shoe width accordingly). This shoe style won't fit a woman with extra wide feet. If you happen to have extra wide feet and you are looking for a pair of good running shoes, refer to an article I wrote called:
The Best Extra Wide Width Shoes for Women – Deep, Supportive, Flexible, and with a Round Toe-Box!
Kindly keep in mind that shoes can run short, long, narrow, or wide, and depending on how they run you will need to adjust the size that you get for yourself.
You always want to wear half a size longer than the size that they measure in the shoe measuring scale in order to prevent your toes from rubbing against the front or the side of the shoes.
If you measure a shoe size 6 and the shoes fit "short", then you will need to choose the shoe size 7 to allow enough wiggle room (a whole size longer instead of a half a size longer). On the other hand, if the shoes fit "long" then you will need to pick the same shoe size instead of going a half a size longer (since the shoes already fit long).
What Shoe Size Should You Order?
To prevent your toes from rubbing against the front or side part of the shoes, I highly recommend that you order this shoe a whole size larger than the size that your feet measure. This translates to 3/8 of an inch or 0.8 centimeters of space between your longest toe and the end of the shoes.
Before you leave, I want to let you know that socks play a key role in keeping your feet healthy, especially when you are running.
The Best Women's Running Socks – Breathable, Seamless, and Comfortable!
Socks play a huge role in keeping your feet healthy, since they act as a barrier between your feet and the shoes, and help cushion and protect your feet against infections, blisters, and calluses.
Did you know that getting the correct sock size has the same importance as getting the correct shoe size? If you wear socks that are too small they will constrict toe movement and squeeze the toes together, making them to overlap each other which can lead to blisters and corns. On the other side, when socks are too big, they tend to fold behind your feet causing discomfort.
Below you can find a selection of some of the better-made, breathable, seamless, and comfortable women's running socks:
80% Bamboo 17% Polyamide 3% Elastane
Made of high-quality bamboo fiber which is softer and more comfortable than cotton
---
97% Polyester, 2% Spandex, 1% Other
Breathable lightweight construction with mesh panels for ventilation
X-Temp technology adapts to your body temperature for all day comfort
Moisture Wicking Cool Comfort fabric keeps you cool and dry
In addition, do you happen to have a child that needs a pair of running shoes? I wrote an article where I describe the best running shoes for kids. Please go to the link below.
The Best Running Shoes for Kids – Allow Your Kids' To ZOOM In Their Shoes
Certainly, do not hesitate to contact me via e-mail or in the comments section with further questions that I will most likely be able to answer. I will continue to post informative articles that address important topics such as this one.