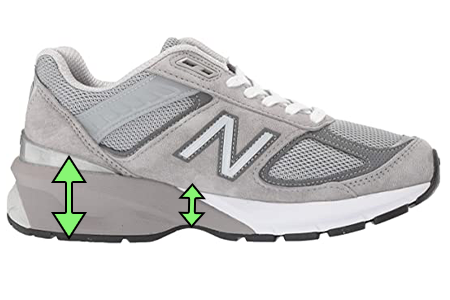 Have you been looking for a pair of supportive and sturdy running shoes? Do you normally experience foot and leg pain when you are running?
I am an expert when it comes to fitting women's shoes since I have been working for a specialized shoe store for the last 10 years. Moreover, I have been helping women find the correct type of shoes and orthotics to reduce or fully eliminate the foot and leg pain that they were experiencing. We specialize in women with foot and leg problems, but we provide regular shoe fittings as well.
Over the years I became familiar with the most supportive running shoes for women.
If you want to keep your feet and legs healthy, you must wear not only the correct shoe style but also the correct shoe size. This consistency is key when choosing a pair of running shoes.
Moreover, whether you are an occasional runner or frequent runner, you always need supportive shoes. You need to wear shoes that will minimize the impact that your feet take every time they come in contact with the ground. There are two key features that your running shoes must provide and they are stability and cushioning.
The shoes must come with a substantial outsole and a firm heel counter. Do you know what the heel counter is? The heel counter is the back part of the shoes that provides ankle support. Below is an image of where the heel counter of the shoe is located: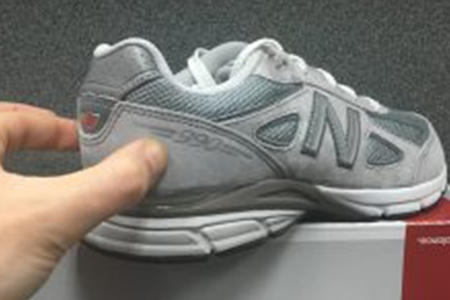 From now on, before you decide to purchase a pair of running shoes always press on the heel counter and make sure that it feels firm. Below you can see an example of a shoe with a soft heel counter. Do you notice how when I am pressing on the heel counter it bends?
Certain running shoes provide more support than others, and I know which ones they are because I have fitted them before. For example, certain shoe styles come with infused gel to provide extra support around a particular area. Take a look at the picture below to see an example: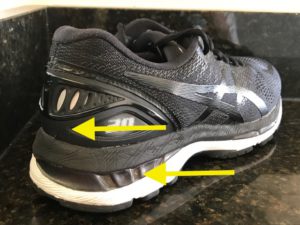 Choosing the correct type of running shoes is key to keep your feet and legs healthy. Wearing the wrong type of shoes can lead to minor foot issues, but they can turn into foot, knee or back pain.  It can even turn into a long-lasting condition, so it is of the utmost importance that you wear supportive running shoes.
I know which are the most supportive running shoes for women from actually having fitted them before.
In addition to being supportive, the running shoes must fit the shape of your feet perfectly. I have fitted women with narrow, wide, and extra wide feet in the perfect pair of running shoes, and I can help you too.
I will show you a selection of the most supportive running shoes for women, but let me show you what features these shoes will provide for your feet first and how you can make sure that you are wearing the correct shoe size.
Furthermore, I will not only be describing what type of features a particular running shoe style must provide, but also in what different widths that shoe style is available. Remember that all women's feet are different, and while most women have a medium width foot, I have also helped many women with narrow, wide, or extra wide feet.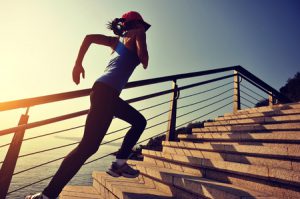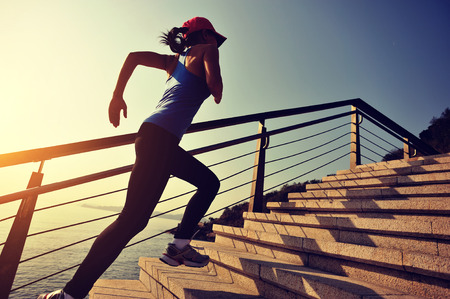 Asics and New Balance – Supportive Running Shoes
The most supportive shoe styles are made by two shoe brands that you might be already familiar with: Asics and New Balance. They are both an excellent choice when looking for supportive running shoes.
The beauty of these two shoe brands is that they not only make some of the most supportive shoes for women, they also make their shoes in different widths.
I am sure you have heard of other popular shoe brands such as Brooks, Mizuno or Saucony (to name a few), but none of their shoe styles compare to the ones I will describe by Asics and New Balance in terms of comfort and support.
Supportive Shoes for Women – What a Difference a Shoe can Make!
Below is a list of the features that you will get from the shoes I will describe below. Bear in mind that certain shoes will have all of the features below, while some of them will provide a combination of them.
☑️ Substantial and Supportive Outsole: This feature will reduce the impact that your feet take every time they come in contact with the ground. If you tend to overpronate or you have noticed that your feet collapse when you are standing (you might be flat-footed), a shoe with a substantial outsole will help straighten your feet and legs.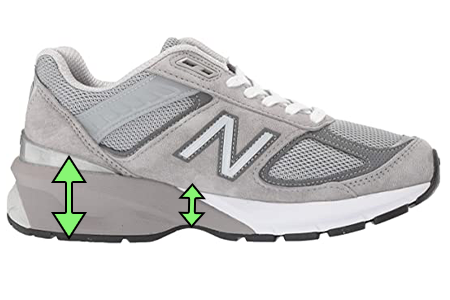 Let me prove it to you!
Let's take a look at a picture of a woman who tends to overpronate and is flat-footed wearing two different pair of shoes. The first picture shows this woman wearing a pair of unsupportive shoes: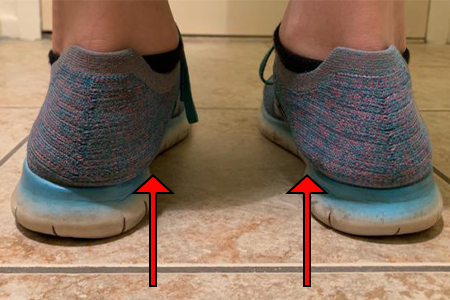 The second picture shows the same woman wearing a pair of supportive shoes. Do you notice how the arch support and the heel support is aligning the feet? This will allow you to walk and run straighter!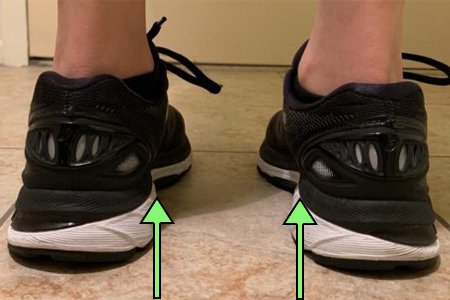 ☑️ Firm Heel Counter (we went over this feature at the introduction of the article).
☑️ Good Traction: This feature will prevent you from slipping, especially when running around on wet surfaces.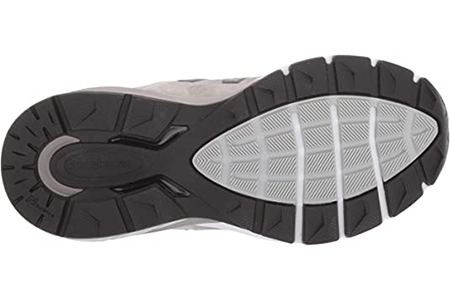 ☑️ Lightweight and Flexible: Your shoes must be supportive, but lightweight and flexible at the same time to prevent your feet and legs from easily getting tired. Always make sure that you can easily bend the front part of your running shoes.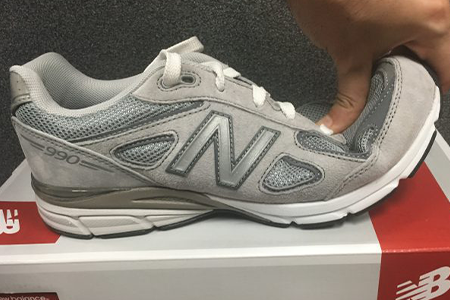 ☑️ Removable Insoles: In case you need to fit an orthotic for extra support.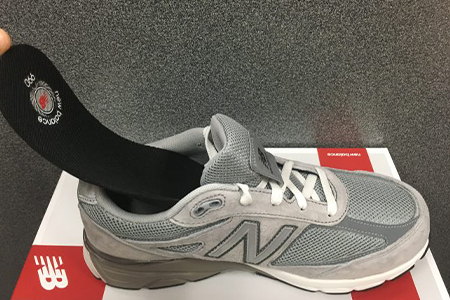 Can we find a running shoe style that provides all of those features and that is also available the correct shoe width? Let's find out!
You should be aware and keep in mind that shoes can run short, long, narrow, or wide, and depending on how they run you will need to adjust the size that you get for yourself.
For example, you always want to wear half a size longer than the size that you measure in the shoe measuring scale to prevent your toes from being cramped against the front or the side of the shoes.
Although…
If you measure a foot size 7 and the shoes fit "short", then you will need to choose the shoe size 8 to allow enough wiggle room (a whole size longer instead of half a size longer). On the other hand, if the shoes fit "long" then you will need to pick the same shoe size instead of going half a size longer (since the shoes already fit long).
The Most Supportive Running Shoes for Women ⭐⭐⭐⭐⭐
Below you can find a selection of the most supportive running shoes for women which provide all of the features mentioned above. These running shoes are also available in different widths such as narrow (N), medium (M), wide (W), and extra wide (XW) widths. Disclosure: Keep in mind that we may receive commissions when you click our links and make purchases.
Fits Medium, Wide, and Extra Wide Feet

Fits Narrow and Medium Feet

Fits Medium, Wide, and Extra Wide Feet

Fits Medium and Wide Feet

Fits Medium and Wide Feet

Fits Medium and Wide Feet

What Shoe Size Should You Order?
To prevent your toes from rubbing against the front or side part of the shoes, I highly recommend that you order the shoes a whole size larger than the size that your feet measure. This translates to 3/8 of an inch or 1 centimeter of space between your longest toe and the end of the shoes.
If you are interested in providing your child with a pair of good running shoes you will find useful an article I wrote where I describe the best running shoes for kids. Kindly see the link below.
How to Lace your Running Shoes for Maximum Support
Something so simple such as making sure you are tying your shoelaces properly, can make a huge difference in the way your shoes feel. If the shoelaces are tied too loose, it will make your feet move too much inside the shoes and that constant friction and rubbing can lead to blisters, calluses, and corns.
There is a shoe lacing technique that will push your heels back against the shoe, securing them and allowing them to get the full benefits that the shoes have to offer. This shoe lacing technique will allow your shoes to hug your feet better providing you with maximum support and stability.
☑️ Start with leaving the top two eyelets of the shoe open.
☑️ Go through the top hole first:
☑️Go through the holes you left open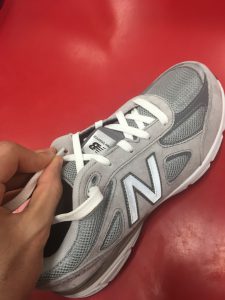 You are all done! You will notice a difference right away.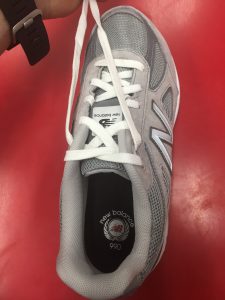 I use this shoe-lacing technique on my running shoes. It's also extremely effective if you have narrow heels (since it will fill any gap around your heels), or if you wear an orthotic inside your shoes.
Have you tried running in any of the shoe styles I describe in this article? Is there a specific style that has worked well for your feet? I encourage you to leave your comments and questions in the comments section below, so other women can benefit from your experiences.