Editor's Note: This post has been completely revamped and updated for accuracy on May 2022 and reflects up-to-date information on what is the widest shoe for women?
Do you have extra wide feet and can't seem to find a single pair of shoes that are wide enough for your feet? Do every single shoe that you try on your feet squeezes your toes or feels too tight along the top part of your feet? Women with extra wide feet or foot conditions such as bunions have the hardest time finding shoes that are wide enough for their feet.
Choosing a shoe that is labeled as extra wide ("XW", "EEEE") is simply not enough when it comes to accommodating your extra wide feet. If you grab two shoes (even from the same shoe brand) that are both labeled as extra wide you will notice they will provide different levels of depth and the toe-boxes of the shoes will be different.
My Experience Helping Women with Extra Wide Feet Find Shoes that Fit
For the last 10 years, I have worked for a shoe store that specializes in helping people with "complicated" foot shapes as well as foot conditions find the correct types of shoes. I have helped several women with extra wide feet find the correct types of shoes for their feet, and I believe I can help you as well.
Whether you need an extra wide shoe to accommodate the shape of your extra wide feet or a foot condition such as bunions I am going to help you find the correct type of shoes.
There is one specific style I found at the shoe store I work for that works wonders for women with extra wide feet or foot conditions.
What Makes the Shoe I Recommend Ideal for Women with Extra Wide Feet?
In addition to being labeled as extra wide, the shoe I recommend provides two additional features that makes it the widest shoe for women:
☑️ Round Toe-Boxes: This feature helps prevent your toes from overlapping each other or rubbing against the side of the shoes. If you are dealing with a specific foot condition such as bunions this feature will help prevent the bunion from being pressed against the side of the shoes.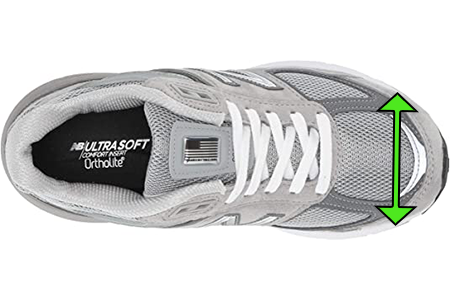 ☑️ Extra Depth: This feature allows the foot to fit deeply inside the shoes, which provides extra room for your feet and toes and increases comfort. Unfortunately, most shoes don't come labeled as extra deep, and the only way to tell whether a shoe provides extra depth or not is by having tried that shoe style before. Shoes that provide extra depth are ideal for women with high insteps.
This specific shoe style that I recommend provides these two important features.
The Widest Shoe for Women ⭐⭐⭐⭐⭐
This shoe style can be worn for everyday activities and it's ideal for short or long distance walking. This is the deepest style made by New Balance so it's ideal for women with high insteps.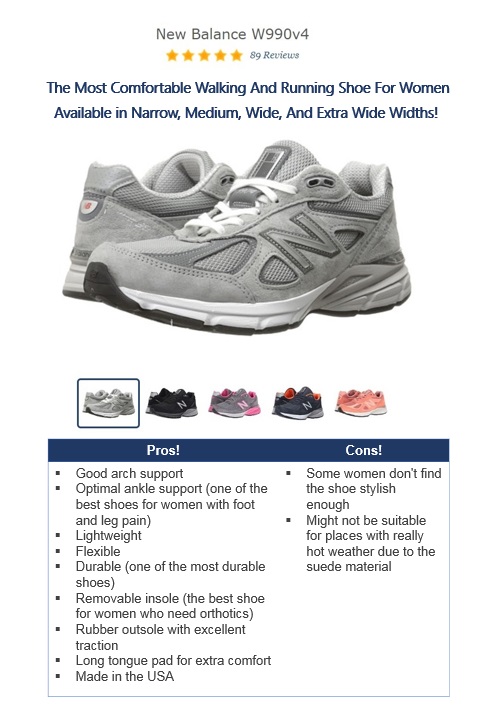 What Shoe Size to Order?
To prevent your toes from rubbing against the front or side part of the shoes, I highly recommend that you order this shoe a whole size larger than the size that your feet measure. This translates to 3/8 of an inch or 0.8 centimeters of space between your longest toe and the end of the shoes.
Are You 100% Sure of Your Foot Length and Shape?
Your foot shape and size can change over time, and some of the factors that contribute to this change are pregnancy, aging and weight gain or loss. Over time and because of gravity, our feet might get longer and wider.
As we age, the body's ligaments and tendons lose their strength and ability to spring back. This means that our arches decrease, which flattens and lengthens the foot and toes.
This often results in an increase in shoe size by a half-size or more. You might also experience a change in foot width, meaning that even though you always ordered medium width shoes now you might have to start ordering wider shoes.
Don't insist on getting your shoes in a specific size simply because that has been the size that they always wore. I usually have to insist to them that they need to at least try the shoes in a different size to see how they feel.
Buying shoes online can be a challenge. If you are unsure of your current foot shape or foot length, I suggest that you take a look at a different resource I created where I help women determine their exact foot shape from home:
How to Measure Your Foot Shoe Size – The Most Simple and Effective Way!
Are There Any Other Shoe Choices Available?
Yes, there are other shoes that provide extra depth and rounder toe-boxes but they won't be as wide as the one I recommended above. If you want to see different shoe recommendations do not hesitate to contact me at:
comfortablewomenshoes@gmail.com 
I also believe that you can benefit from taking a look at the resource below:
Best Socks for Women with Extra Wide Feet – These Socks are Seamless, Breathable and They Stay Up!
Let me know in the comment section below if you have found a specific shoe style that worked well for your extra wide feet or foot condition. I am sure other women will benefit from your experiences.