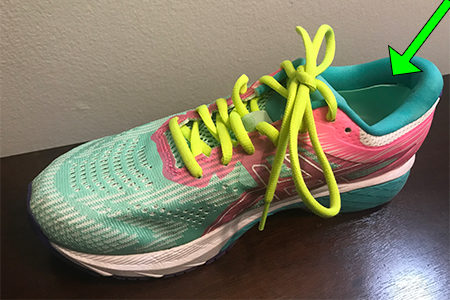 Heel cups are an effective and affordable way to help treat your heel pain. They are basically heel-shaped pads that go inside your shoes and help relieve tension and provide extra cushion to your heels. If your doctor recommended you to wear a pair of heel cups inside your shoes is important that you wear them correctly to maximize performance. I have put together a selection of the best women's shoes that fit heel cups, and I will show you these shoes shortly.
The process of fitting a heel cup inside your shoes is pretty simple and straightforward. However, it's important to note that heel cups don't work in all shoes.
One of the most common complaints that women have is how the heel cups raise their feet, giving them the impression that their feet are coming out of the shoes as they walk or run.
I know which shoes work better for heel cups since I have been fitting women's shoes for the last 10 years. I work for a specialized shoe store that helps women with "complicated" foot shapes and foot conditions find the correct pair of shoes for their feet. Over the years I became familiar with the best women's shoes that fit heel cups.
What Makes the Shoes I Recommend Effective for Heel Cups?
The shoes I recommend provide 2 key features that make them ideal for women who wear heel cups:
☑️ Extra Depth: I have noticed how heel cups work best in shoes that provide extra depth, as the deeper the heel cup fits inside your shoes the more comfortable your feet will feel. Take a look at the image below to visualize how much deeper the heel cup is fitting on the left shoe compared to the right one. These shoes are the same width and length, but the left shoe is a lot deeper compared to the right one.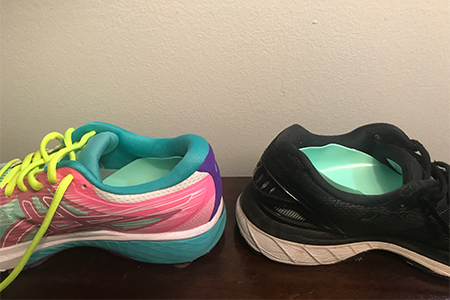 ☑️ Firm Heel Counters: Shoes with firm heel counters help maximize the likelihood of the heel cups reducing or fully eliminating your heel pain. Take a look at the image below to visualize the difference between a shoe with a firm heel counter versus a shoe with a softer one. Always press on this part of the shoe before buying them to make sure that the shoes offer good ankle and heel support:
Let's Figure Out Your Exact Foot Size!
Before I show you a selection of the best women's shoes that fit heel cups I want to make sure that you know your exact foot size. You won't be able to order the correct shoe size online if you don't know what your exact foot length and shape is to begin with, and you have no idea how many women are wrong about their actual foot size.
For example, do you know whether you have narrow, medium, wide, or extra wide feet? Do you know whether you have a high instep or not? These are all factors that determine what shoe brands and shoe styles you can wear.
Most women always buy the same shoe size simply because that's the shoe size that they have worn for years. Did you know that just because you have worn a certain size for most of your life that doesn't mean that your foot size has not changed? As we age the body's ligaments and tendons lose their strength and ability to spring back, which means that our arches decrease, which flattens and lengthens the foot and toes. This often results in an increase in shoe size by a half-size or more.
Since most specialized shoe stores are closed now I came up with a system that helps women determine their exact foot size and shape from home:
How to Measure Your Foot Shoe Size – The Most Simple and Effective Way!
Without further ado, let's take a look at the best women's shoes that fit heel cups. Disclosure: Keep in mind that we may receive commissions when you click our links and make purchases.
Best Women's Shoes that Fit Heel Cups ⭐⭐⭐⭐⭐
The shoes I recommend below are available in different widths such as narrow (N), medium (M), wide (W), and extra wide (XW), so make sure that you order your foot width accordingly.
Fits Narrow – Medium

Fits Medium -Wide – Extra Wide

Fits Narrow – Medium

Fits Medium -Wide – Extra Wide

Fits Narrow – Medium -Wide

Fits Medium -Wide

To prevent your toes from rubbing against the front or side part of the shoes, I highly recommend that you order these shoes half a size larger than the size that your feet measure. This translates to 0.3 inches or 0.6 centimeters of space between your longest toe and the end of the shoes.
Shoelaces VS Alternative Closure — Which One is Best?
I always recommend shoes with shoelaces over velcro closure as shoelaces help provide better support and stability. In addition, there is a specific shoe lacing technique that works wonders for women who wear heel cups. This shoe lacing technique basically pushes your feet back, securing and supporting them against the back of the shoes, preventing the heel cup from moving. I strongly suggest that you at least try this shoe lacing technique to see how it feels.
You can learn how to apply this shoe lacing technique in a different article I wrote called:
How to Tie Shoes for Women Who Wear Orthotics — It Takes 3 Easy and Simple Steps!
Do not hesitate to contact me if you are having trouble finding a different pair of shoes to accommodate your heel cups. I will do my best to help you find it: comfortablewomenshoes@gmail.com 
Fitting your heel cups in the correct pair of shoes can work wonders in significantly reducing or fully eliminating your heel pain. By the way, if you are unsure whether you have a good pair of heel cups or not take a look at the article below:
Best Heel Cups for Women with Heel Pain – An Effective and Affordable Way to Treat Your Heel Pain!
Let us know in the comment section below if you have found a specific pair of shoes or heel cups that have worked well in helping treat or fully eliminate your heel pain.